Apple launches Best of 2012 promotion for apps, games, films, books and more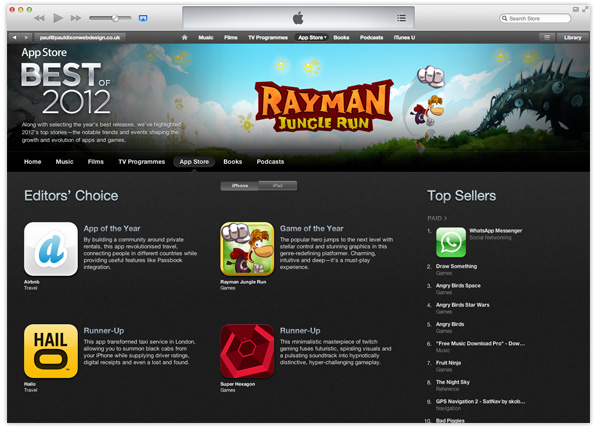 Apple has today launched its annual "Best Of" promotion highlighting the company's top picks of 2012 from the iTunes Store, iOS App Store, Mac App Store, and iBookstore. This year's winners in the UK include the iPhone app Airbnb, the iPad game Paper by FiftyThree, and the film Avengers Assemble.
Here's a list of the main winners and runners-up from each category:
iPhone Apps
Game of the Year: Rayman Jungle Run
Runner-Up: Super Hexagon
App of the Year: Airbnb
Runner-Up: Hailo
iPad Apps
Game of the Year: The Room
Runner-Up: Eufloria HD
App of the Year: Paper by FiftyThree
Runner-Up: Green Kitchen – Healthy vegetarian recipes
Mac Apps
Game of the Year: LEGO Batman 2: DC Super Heroes
Runner-Up: Splice: Tree of Life
App of the Year: Day One
Runner-Up: CameraBag 2
Music
Album of the Year: Is Your Love Big Enough by Lianne La Havas
Song of the Year: Call Me Maybe by Carly Rae Jepsen
Artist of the Year: Emeli Sande
Performance of the Year: Isles of Wonder: Music for the Opening Ceremony of the London 2012 Olympic Games
Books
Best Fiction: Gold by Chris Cleave
Best Non-Fiction: My Animals and Other Family by Clare Balding
Best Made with iBooks Author: Discovery Channel: Speed Machines
Best Young Adult: The Fault in Our Stars by John Green
Films
Best Blockbuster: Avengers Assemble
Best Discovery: The Woman in Black
Best Director: Christopher Nolan – The Dark Knight Rises
Best Performance: Michael Fassbender – Prometheus
TV Programmes
Best Series: Homeland
Best Episode: Sherlock Homes A Scandal in Belgravia
Best Breakthrough Series: The Bridge
Best Cast: The Thick of It
Podcasts
Best New Audio Podcast: The Empire Podcast
Best Audio Podcast: Friday Night Comedy from BBC Radio 4
Best New Video Podcast: MinutePhysics
Best Video Podcast: The YoGPoD
You can view more picks from each category on the iTunes Store and Mac App Store.