Marvel graphic novels now available from the iBookstore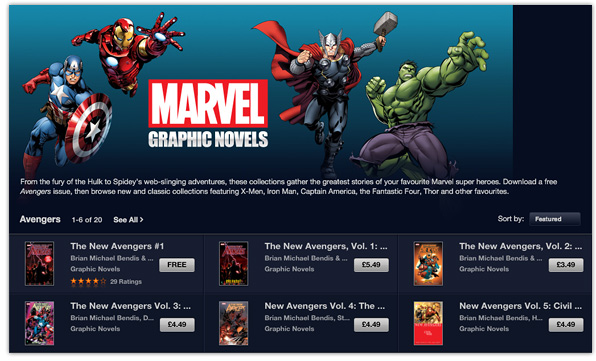 Although Marvel's comic books have been available on the iPad, iPhone, and iPod touch via their own app since April 2010, there's now another way for fans to follow the adventures of Captain America, Hulk, Spider-Man, X-Men, and more on iOS devices – the iBookstore.
The Disney owned company has made 80 of its digital graphic novels available to purchase from Apple's e-book store at launch, and will be adding more titles each week.
From Marvel's official press release:
"Marvel is taking the world of comics by storm and releasing a massive selection of our best and brightest graphic novels on the iBookstore," said Peter Phillips, Senior Vice President & General Manager, Marvel Digital Media Group. "For the first time ever, fans will be able to easily find and enjoy all of their favorite heroes including The Avengers, Spider-Man and The X-Men on iPad, iPhone, and iPod touch — one of the best digital platforms for reading comics and graphic novels."
For a limited time, the first full issue of New Avengers Vol. 1: Breakout, is available to dowload for free. The other titles range in price from £3.49 to £9.99.
Visit Marvel's website to view a list of launch novels.