Are Apple planning a backlit desktop keyboard?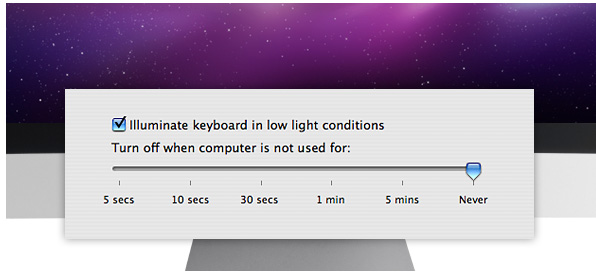 One of the things I miss about my old MacBook Pro is the backlit keyboard. I know the lack of one on the MacBook Air has put some people off buying it. Companies such as Logitech already make backlit keyboards for desktops, could Apple be planning to do the same?
A discovery by 9 to 5 Mac in the keyboard preferences of one of the new iMacs, has got people wondering. It would appear that they have the same option that you find on the MacBook Pro – to illuminate the keyboard in low light conditions.
Maybe part of the new iMac's system was based on the MacBook Pro's, and the inclusion of the preference was a mistake. Or perhaps Apple planned to ship one with the new iMacs but had to hold it back at the last minute.
In order for a backlight to come on automatically in low light conditions you would need an ambient light sensor. The new iMac does have one next to the FaceTime HD camera, but that might have been included solely to adjust the display brightness.
If Apple are planning one, and wanted it to be compatible with all recent Macs, they would need to add an ambient light sensor to the keyboard itself, possibly making it both bulkier and more expensive. You also have to factor in the additional battery power that a backlight would use, unless it was only added to a wired keyboard.
My initial reaction when I first heard the rumour, was that I'd definitely buy one. Thinking about it now I'm not sure if it would be that useful for me. I find the 24″ screen on my current iMac provides more than enough light even when it's the only light source in the room.
Maybe it would be more useful for anyone that uses an external keyboard with their iPad.
Would you buy a backlit Apple keyboard?