Lion may seem like good value, but not if you're charged 122 times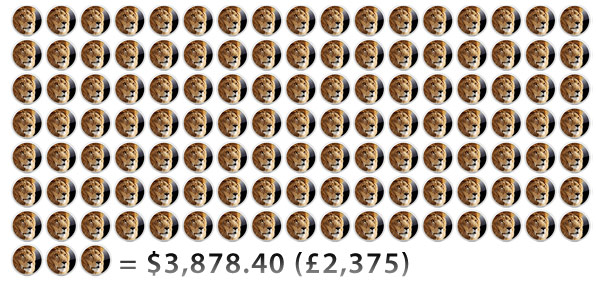 Apple's latest operating system, OS X Lion, introduces over 250 new features to the Mac, and is a steal at just £20.99 ($29.99). Especially when you compare it to Windows – it's biggest rival – which currently retails from around £120. It's not such great value, however, if Apple decides to charge you for it 122 times.
John Christman purchased Lion through the U.S. Mac App Store on July 23, three days after its launch date. When he hit that little 'buy' button, he expected to pay $31.79 (approx. £19.50) for his purchase after tax, but in fact, his total bill for Lion reached a whopping $3,878.40 (approx. £2,375).
Having only intended to purchase one copy of Lion, Mr. Christman now had 121 he didn't need, and wasn't too happy about it. He did what any of us would do and contacted both Apple and PayPal for explanation, however, it seems both companies pointed the finger at one another:
"Apple blames PayPal, PayPal blames Apple. They both are claiming to investigate, but I am stuck broke for three days now."
Apple couldn't offer Mr. Christman an explanation for the error, but he believes it could be something to do with iCloud – Apple's latest cloud-based service which allows you to download all of your previous purchases:
"I fresh installed Lion, because the upgrade caused a lot of problems. My system needed as fresh start anyway.

I logged into our developer account and got the latest iTunes Beta, and installed it. iTunes has a cool new feature to download all your purchased apps for you. I clicked download all.

As each download started it charged me $31.79. Some apps came fast, some took longer, but the timing was directly related to when a new app started to download."
According to MacRumors, Mr. Christmas downloaded 116 apps in total, but several apps failed to download and had to be restarted. "116 apps downloaded and 121 extra charges seems too close to be mere coincidence."
What's more, it seems Mr. Christman isn't the only one who had experienced this issue: A lengthly discussion on Apple's support forums is full of users who have also paid well over the odds for the latest release of Mac OS X.
Thankfully, after a request for a comment from MacRumors, Apple has agreed to work with Mr. Christman directly to resolve his issue.
Have you run into any issues with your Lion purchase?