Leaked AppleCare document reveals OS X Lion recovery options
Ever since Apple confirmed that OS X Lion will be available exclusively via the Mac App Store, there has been much speculation regarding how users might troubleshoot non-booting Macs, or perform clean installs of the OS – without a physical disc. A leaked AppleCare document may just shed some light on the situation.
The document (pictured below), which was originally posted by 9to5 Mac, states:
"Mac OS X Lion includes a built-in set of recovery tools for repairing disks or reinstalling Lion without a physical disc. Enter recovery mode by holding down Command-R during startup.
Users can restore from a Time Machine backup, reinstall Lion over the Internet from Apple's servers, or use Disk Utility to repair or erase a disk."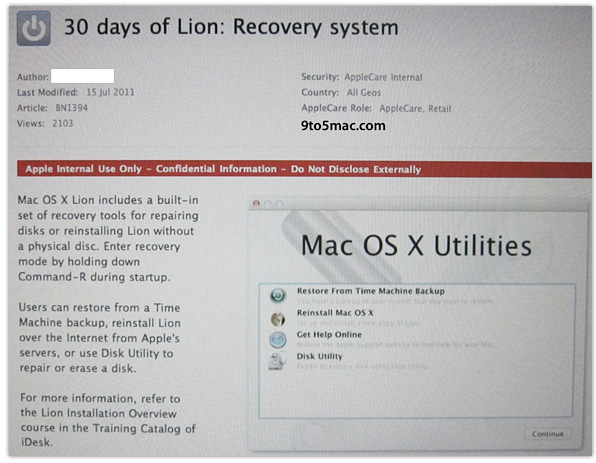 The recovery options, which are located on their own partition, mean you won't have to fully boot your Mac, launch the App Store and download Lion again to do a clean install. Nor will you have to reinstall a fresh copy of Snow Leopard, and upgrade again – though it's probably worth keeping hold of your Snow Leopard disc for emergencies.
While the ability to restore from a Time Machine backup isn't new, the option to install from Apple's servers is – the only downside that I can see to this method is the length of time it might take, especially if your internet connection speed isn't great.
It's also worth noting an option not mentioned in the document, that developers testing beta versions of Lion have discovered – the ability to create an installer on a USB flash drive or DVD.
Of course, until Lion is officially released, we have no way of knowing how well any of the above methods will work. If the latest rumors are to be believed, we shouldn't have to wait much longer to find out – many sites are predicting that tomorrow will be the big day!