Apple releases OS X Lion Thumb Drive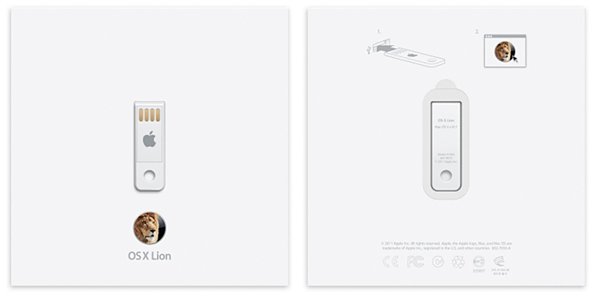 Just as Apple promised on the day OS X Lion was released in the Mac App Store, you can now also purchase Lion on a USB Thumb Drive from the online Apple Store. The drive, which has the same design as the one that shipped with the 2010 MacBook Air, costs £55.00 ($69.00).
From the product description:
"OS X Lion is available on a USB thumb drive for installation without the need for a broadband Internet connection. Just plug the drive into your USB port and follow the instructions to install. OS X Lion is also available for a lower price as a digital download from the Mac App Store."
Unless you absolutely can't download Lion from the Mac App Store, where it's significantly cheaper at £20.99 ($29.99), I can't see any other compelling reason to purchase one of these. Making your own physical OS X Lion drive either on a USB stick or DVD, isn't complicated, especially if you use an application like Lion DiskMaker.
And if you are thinking of buying one, it's worth noting that once installed from the USB drive, you won't be able to reinstall Lion from Lion Recovery – you will have to continue to use the USB drive each time.
Will you be buying one?
[Via 9to5 Mac]