iTunes 10.3 beta released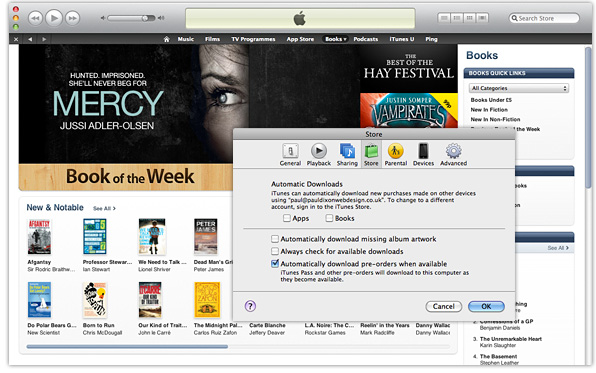 Along with pushing out basic iCloud functionality to iOS 4.3 compatible devices yesterday, Apple also released iTunes 10.3 beta. Available for download from their website (or via software update) it allows users to view a history of past purchases, adds iBooks support to the iTunes store and includes settings to configure automatic downloads for purchases made on other devices.
Past Purchases
If you you go to the store home page in iTunes 10.3 you will see a new 'Purchased' link has been added to the 'Quick Links' menu, which can be found down the right of the window. Click on the link to view a history of past purchases – if (like me) you live outside of the US it will show Apps & Books, US users will also be able to see their Music purchases.
You can either view all of your purchased items together, or only view the items that are not backed up to your iTunes library – if you click on the cloud icon next to an item you can download it to your library.
Books
For the first time, iTunes 10.3 brings Books to the iTunes store. This means you can browse and buy books on your Mac or PC and have them downloaded to iBooks on your iPad, iPhone or iPod Touch.
Automatic Downloads
If you open up iTunes preferences and then go to the Store tab, you will see a new section has been added that allows iTunes to automatically download new purchases made on other devices using your account.
Requirements
iTunes 10.3 beta is available for Mac users running OS X 10.5 or later and PC users running Windows XP SP2 or later.