Feature – iOS 5 revealed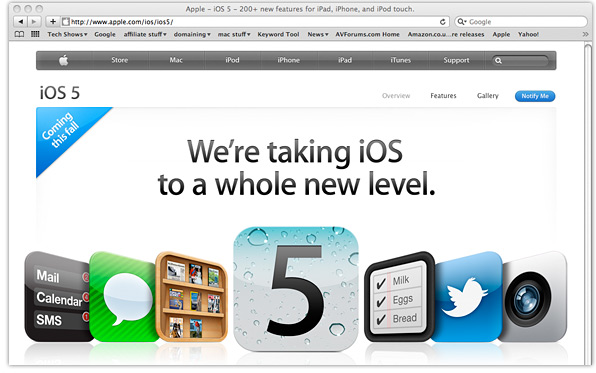 Of all the announcements made at the WWDC keynote, iOS 5 appears to be the one area where Apple have really listened to user feedback and complaints. From the intrusive way notifications are currently handled, to the clunky backing up and syncing of iOS devices – iOS 5 looks set to address many of them.
Improved Notifications
With one swipe down from the top of the screen you will be able to view a notification centre, listing new emails, texts, friend requests, missed calls and more. When a new notification arrives a subtle animation is displayed at the top of the screen and disappears quickly without interrupting what are doing. Notifications will show on the lock screen.
Messaging
iMessage will allow you to send (via WiFi or 3G) text messages, photos, videos, locations and contacts from your iPhone, iPod Touch or iPad to other iOS 5 enabled devices. Delivery and read receipts will let you know that the messages have reached their intended destination.
Magazines & Newspapers
Newstand is the equivalent of the iBook store for magazines and newspapers. You can use it to manage your subscriptions more easily, and alerts will inform you when a new issue is available to read. It certainly sounds like a better solution than having to have lots of separate apps for each publication.
To-do lists and task management
Reminders will let you keep on top of your daily tasks by organising them into to-do lists. So for example they could help you to remember to organise a meeting or get some milk from the shop. Reminder alerts appear in the notification centre, and you can even create location aware reminders – for example when you arrive at work.
Twitter Integration
With iOS 5 Twitter is integrated into the OS, so once you have signed into your account you can Tweet from Safari, Photos, YouTube and Maps. You can also add your current location to any Tweet.
Web Browsing
Finally Safari on the iPad will get a feature that many third-party browser have had for a long time – tabbed browsing. It will look and work in a similar way to the desktop version of Safari so that you can quickly switch between different pages. You will also be able to use Safari Reader to view web pages without all of the clutter. Reading List will allow you to save pages for viewing later – and they will be available on all of your other iOS 5 devices.
Taking Photos
Ironically one of the new features added to the Camera in iOS 5 is what saw the creators of Camera+ have their app pulled from the store – the ability to take photos using the hardware volume button. Apple are also allowing access to the photo app directly from the lock screen for faster photo taking, and they are adding simple editing in the form of red eye reduction, quick enhancements and cropping.
Email
Mail gets a number of new features including: rich text formatting, the ability to flag important emails, add new folders, drag names in the address fields and search your mailbox.
Typing
If you do a lot of typing on your iPad you will probably appreciate the new split keyboard feature – it's designed to make thumb typing easier when the iPad is in portrait mode.
AirPlay Mirroring
Possibly one of the more surprising announcements – iOS 5 will allow you to stream whatever is on your iPad 2 screen directly to your TV via an Apple TV. That could include watching videos, surfing the web or even playing video games – all without a cable!
Playing Games
New features coming to Game Centre in iOS 5 include: new friend recommendations, the option to add a picture to your profile, and you will be able to discover new games without having to leave the Game Centre app.
Wireless Backing Up & Syncing
Instead of having to plug your iOS device into your Mac or PC, iOS will introduce wireless syncing via WiFi. All you will need to do is connect your device to a power source and make sure it's in range of your Mac or PC. Any new content will be automatically backed up to iTunes.
Computer not required
Many users saw the iPad as a device that they could use instead of a traditional Mac or PC. Unfortunately, the first thing you currently need to do when you buy a new iPad, iPhone or iPod Touch is activate it by connecting it to a Mac or PC. With iOS 5 you will no longer need to do that. Your iOS device will be ready to use out of the box, and you will be able to backup and restore your apps, music and data to iCloud.
Developers can already download a beta version iOS 5, the rest of us will have to wait untill Autumn.
Which of the features mentioned above are you most looking forward to using? Let me know by leaving a comment below.