Is this the Retina Display from the iPad 3?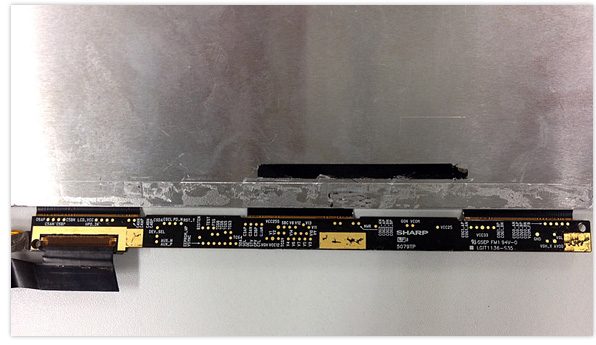 It certainly seems as though this week is iPad 3 rumor week. We've seen a plethora of reports featuring leaked components and casings for the third-generation device, but arguably the most exciting part so far is this one: A high-resolution "Retina Display" from Sharp.
It's one of the features iPad users are most excited about, and they've been waiting for it since the Retina Display made its debut in the iPhone 4 back in 2010. And according to Japanese blog Macotakara, who obtained this image from iLab Factory, this is the component that will make it happen – a 9.7-inch 2048×1536 high-resolution LCD.
We can tell it's an iPad 3 part because it features a three-ribbon flex cable identical to that which leaked back in December. It's very similar to the iPad 2's display connector, only it has three connecting ribbons as opposed to two. This strengthens claims it's a Retina Display that needs an additional cable to transfer twice as much data to support its higher resolution.
One thing the new device may not feature, however, is that much-anticipated quad-core processor. According to Joshua Topolsky over at The Verge, the third-generation device will feature the same dual-core processor that's packed into its predecessor. Their report claims Apple doesn't currently see the need for a quad-core processor in the iPad, and so it won't introduce one that will just waste battery life.
Until Apple makes its iPad 3 announcement, however, this is all speculation. The Cupertino company is set to take the stage during the first week of March, according to All Things D, with a launch during the following week.
Will you be pleased to see a Retina Display in the iPad 3? What if it's lacking a quad-core chip?