iPhone 5 shipping times slip to at least two weeks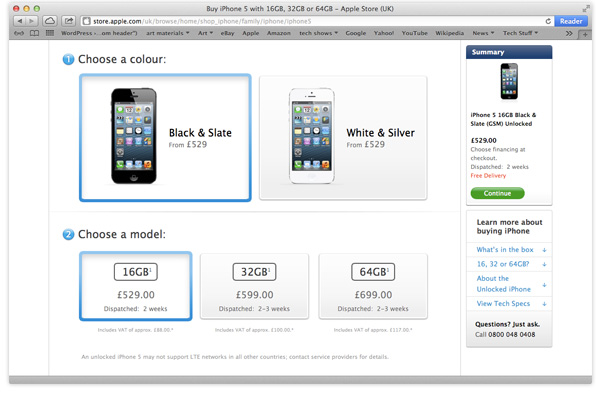 Apple started accepting pre-orders for the iPhone 5 today, but it didn't take long for the initial supply to be exhausted. After just an hour, estimated shipping times for most models slipped to two weeks in the UK, US, Australia, Canada, and Germany.
Here in the UK, both the black 32GB and 64GB iPhone 5 models could take even longer to arrive, with dispatch times of 2-3 weeks now being quoted.
It took slightly longer for the carriers to shift their first batch, but in the US, Verizon Wireless and AT&T have also pushed back their shipping dates. The situation at UK carriers isn't as clear, with the likes of Orange, Vodafone, and T-Mobile not providing delivery estimates on their order pages.
By comparison, when Apple opened pre-orders for the iPhone 4S last year, it took almost a full day before estimated shipping times slipped – so either the iPhone 5 is in shorter supply than its predecessor, or demand is significantly greater.
So, if you didn't manage to get your pre-order in early enough, and you still want to get your hands on the iPhone 5 on its 21st of September launch day, you should probably prepare to brave the queues outside your local Apple Retail Store.
Have you ordered one yet?