iPhone 4S launch halted in Beijing as SWAT teams break up violence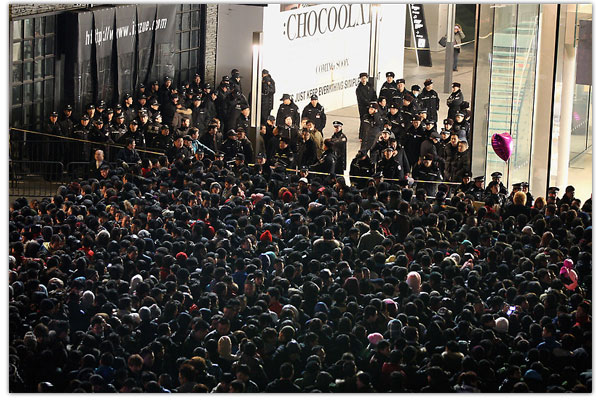 Apple's new iPhone 4S was set for a launch in China today, and just as expected, hundreds of fans turned out to get their hands on the latest device. Queues were already lengthy around 12 hours before its debut at five Apple retail stores in China, but at the Cupertino company's Beijing store, the launch had to be postponed.
According to reports from M.I.C. Gadget, violence broke out at the Apple Sanlitun retail store in Beijing, forcing SWAT teams to intervene. Apple initially delayed the fifth-generation device's launch for just one hour in the hope that customers would calm down, before canceling today's sales entirely:
"Lines outside the Apple store in Beijing's Sanlitun district show no signs of shortening, causing frustration for the thousands of fans and scalpers desperate to get their hands on the iPhone 4S. Now some of that disappointment is turning to anger, with reports of fights breaking out between gangs of scalpers, and guess what, Beijing SWAT teams arrived. So, the Apple store employees later announced that the launch of iPhone 4S is cancelled at the Apple's flagship store in Beijing, and all scalpers are pissed."
If you're unfamiliar with the word "scalpers," it's used to describe a gang that purchases goods for the sole purpose of selling them on again to make a profit. Apple's iPhone is big business for scalpers in China because it's hard to get hold of. The gangs purchase as many units of the device as they can before selling them on in the grey market for much more than they paid at the Apple store.
And because the device is big business, Apple's product launches in China are often spoiled by violence between scalpers and genuine customers who line up to purchase the device for themselves. This certainly isn't the first time a Chinese product launch has resulted in violence.
Another report from Reuters today shares more on the story:
"Apple Inc. (AAPL)'s main store in Beijing was pelted with eggs from a crowd of about 500 people after it failed to open on time for the start of sales of the iPhone 4S.

Apple had advertised that the store would open at 7 a.m. At about 7:15 a.m., the crowd began chanting "Open the door!" and "Liars!" after a man with a bullhorn said the phone would not go on sale today, without giving an explanation. The man also declined to identify himself to a Bloomberg News reporter. The crowd chased away a man who tried to stop the egg throwing."
As it currently stands, then, those who waited in line outside of Apple's Beijing store are without the iPhone 4S today, and it's unclear when the launch will go ahead.