Apple expand reuse & recycling scheme in UK, France, and Germany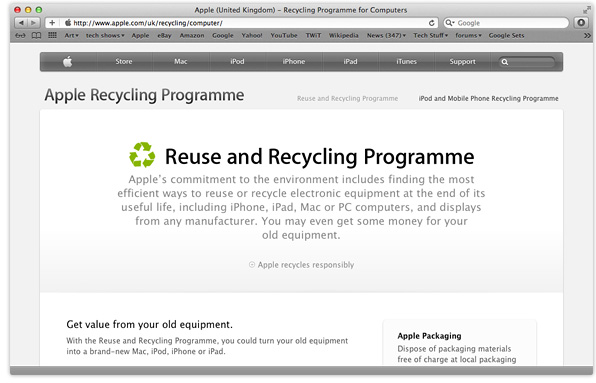 Apple have expanded their Reuse and Recycling Programme to allow residents of the UK, France, and Germany to receive money for their old iPhones, iPads, Macs and PCs. However, anyone looking for the best return on their on their old technology may be disappointed with the valuations offered by the service, which is operated by Dataserv GmbH.
From Apple's Recycling Programme page:
"Whether it's an iPhone, iPad, Mac or PC computer, working or not, we'll take it and determine if it qualifies for reuse and has a monetary value. If it does, the amount will be credited directly into your bank account. If it doesn't, you can recycle it responsibly through one of our free recycling programmes."
To find out how much you could receive for your device, you just need to head over to this page, and answer a few questions about its specs and condition. After answering the questions either an estimate will be shown by Dataserv – the actual value is determined on inspection, or you will be told that the item has no resale value.
As a test, I decided to see how much I might get for my iPad 1, which is in full working condition: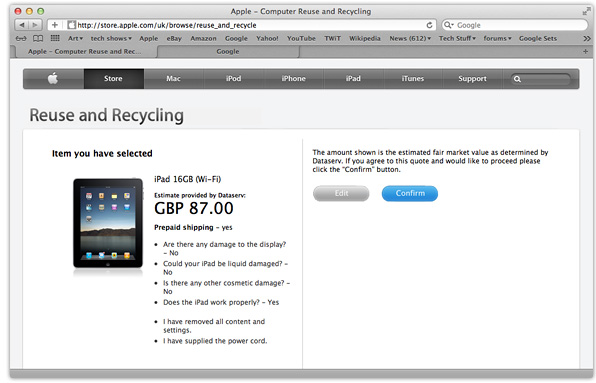 I'm sure you'll agree that £87.00 is a pretty poor return, even though it is almost 2 years old. This is how it compares to valuations from similar services:
TopDollarMobile: £191.00
Cash4phones: £130.52
Mazuma Mobile: £130.00 or £143 Argos Voucher
And, of course, I could sell my iPad on eBay.co.uk where, based on recently completed listings, I can expect to get around £250.00.
Will you be using Apple's Reuse and Recycling Programme?
[Via MacWorld UK]