Control your iPhone & Mac with the Matias Tactile One Keyboard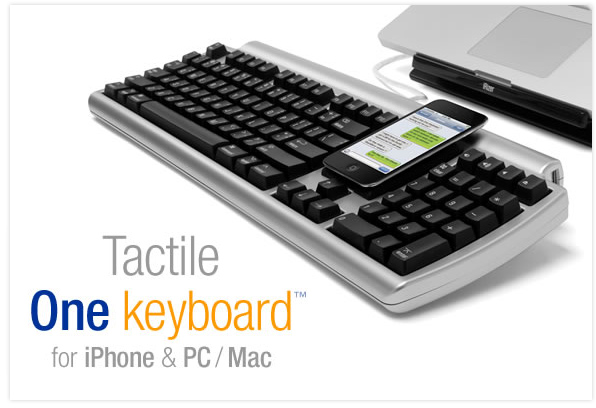 If your day consists of tons of typing on a Mac and an iPhone, then you need this keyboard on your desk. It's called the Matias Tactile One and it was unveiled at this week's CES event in Las Vegas. It's party trick is that it can seamlessly swap between both iPhone and Mac at the flick of a switch.
The keyboard connects to your Mac via USB, and features a built-in dock for your iPhone. Replying to a text is a simple as pressing a special key that will switch input from your Mac to your iPhone instantaneously, allowing you to send your message quicker than ever before, without removing your hands from the comfort of your keyboard.
The Matias One will be a hit with fans on the old Apple Extended and Extended II keyboards, because it features the same buckling spring keys that were commonplace before the introduction of the slimline chicklet keyboard.
Furthermore, each key is an identical shape to those on Apple's keyboards, with a wide, sculpted design that's curved to fit the shape of your fingertips. SlashGear reports the device also boasts "anti-ghosting" circuitry that makes it perfect for speedy typists:
"And for those who type really fast and experience ghosting, such as when letters are missing from what you actually typed or additional ones show up, the Tactile One offers anti-ghosting circuitry or n-key rollover. This way you can type as fast as you'd like and the keyboard will keep up."
Because it connects via USB, the Matias One requires no batteries, and gives you three additional USB 2.0 ports. Unfortunately, however, it will not charge your iPhone while it's docked inside.
The Matias One is available for both Mac and PC for $199.95 (£130), and you can pre-order now for shipping in May.
What do you think of the Matias One?