iOS 6 adds Complete My Album/Season features to the Music & Videos apps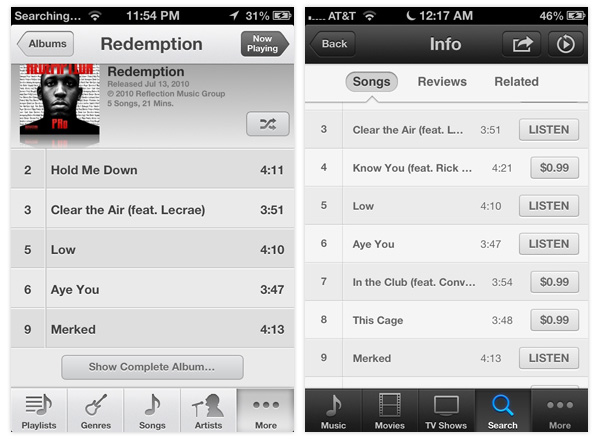 Apple continues to add new features to its upcoming iOS 6 software, so every time the Cupertino company releases a new beta, developers uncover something we haven't seen before. Following the release of iOS 6 beta 3 earlier this week, new Complete My Album and Complete My Season features have appeared inside the built-in Music and Movies apps.
You may already be familiar with these features, because they've been available within Apple's iTunes application for Mac and Windows for some time. But if you're not, these features give users a quick and simple way to complete their music or TV show collection by automatically buying songs missing from a certain album, or shows missing from a certain season.
For example, if you buy two songs from your favorite artist's new album, and then decide a week later you want the whole thing, you can use the Complete My Album feature in iTunes to download all the songs you have missing. And in iOS 6, you can do exactly the same thing on your iPhone, iPad, or iPod touch.
According to 9to5Mac, this feature is implemented with a new button that appears at the bottom of every album or TV season that has content missing in the Music and Movies apps. When you press it, rather than taking you to the iTunes Store, the additional content is displayed and you can purchase it directly from the app you're in.
Unfortunately, however, you will still need to visit the iTunes Store to preview that content. But we're hoping this will change before iOS 6 is launched.
As you'd expect from a beta feature, there are a few kinks Apple needs to iron out:
Oddly, the button only appears if you navigate to the album through the Albums tab in the Music app. Searching or going through the Artists or Genres tabs won't show it.
In addition to this, Apple has added a "Listen" button to tracks that you've purchased within the iTunes Store — similar to the "Open" button in the iOS 6 App Store — which allows you to listen to full tracks without opening up the Music app.
These features show Apple still has a lot to add to iOS 6, and you can probably expect a lot more like this before the software makes its public debut this fall.
[Via: 9to5Mac]