Introducing Tim Cook – Apple's new CEO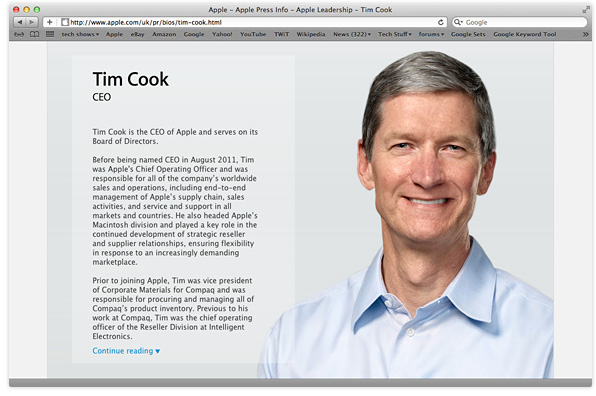 Steve Jobs announced that was stepping down from the position as CEO at Apple on Wednesday, and he'll be replaced by Tim Cook, previously the company's chief operating officer. But just who is Tim Cook?
Tim Cook was born in Robertsdale, Alabama, on November 1, 1960 – making him 50 years old. He earned a Bachelor of Science degree in industrial engineering from Auburn University in 1982, and an M.B.A. from Duke University's Fuqua School of Business in 1988.
In the early days, Cook spent 12 years with IBM – Apple's biggest rival in the 1980s – where he was the director of Northern American fulfilment. He was known for his incredibly hard work and dedication – working over Christmas and New Year to ensure the company completed its orders.
In 1994, Cook left IBM to join Intelligent Electronics, which was the first time he become the COO of a company. After three years, the company sold its computer reseller division to Ingram Micro, and Cook went to work for Compaq. After just 6 months at Compaq, Cook met Steve Jobs in 1998, who hired him to join the gang in Cupertino.
When he joined Apple, Cook was Senior Vice President of Worldwide Operations. He is credited with pulling Apple out of manufacturing by closing factories and warehouses around the world – allowing the company to reduce its inventory and significantly increase sales margins.
According to some reports, Cook hadn't lost his hard working nature when he got to Apple: he apparently begins sending emails from 4:30 AM, and holds Sunday night telephone meetings with managers to prepare for the week ahead. Cult of Mac also mentions a humorous anecdote:
"Cook's no-nonsense approach to management and solving problems was made immediately evident upon coming to Apple. When in a meeting discussing a problem in China, Tim Cook noted that the problem was "really bad" and that someone should be in China fixing it. Thirty minutes later, Cook then famously looked over at Apple's operations manager, Sabih Khan, and asked "Why are you still here?" Khan was on the next flight to China."
In 2004, Cook took charge of the Mac division at Apple, and steered the way for the company's transition from PowerPC to Intel processors. Shortly afterwards, that 'no-nonsense approach' landed Cook the position of COO in 2007.
This isn't the first time Cook has been CEO of Apple, in fact, it's actually the third. In 2004, Cook took over as CEO for two months while Steve was recovering from pancreatic cancer surgery, and then again in 2009 when Steve took medical leave for a liver transplant.
His third spell as CEO came just recently, when Steve took another medical leave of absence and Cook became interim CEO in January. That obviously became a more permanent position this week.
No one really expected Steve to retire as CEO so soon. Sure, we knew he was ill, but we didn't imagine him to hand over the throne so suddenly. Not even Cook expected to be CEO: he once famously said, "Come on, replace Steve? No. He's irreplaceable… That's something people have to get over. I see Steve there with gray hair in his 70s, long after I'm retired."
While Steve may have been grooming Cook for the CEO's position since 2004, Cook is a little different to Apple's founder. TUAW's Michael Grothaus, who used to work at Apple under Cook, wrote:
"Tim Cook is one of those rare people who stop and think before speaking. Standing in the same room with him I realized that he's comfortable with silence as long as that silence is productive and appropriate. He's not like other tech execs who ramble almost immediately and incoherently at any question lobbed at them, as if doing so will convince others they know everything about everything."

"Tim Cook is a person who has confidence in his position as a leader, sans ego. Ego doesn't take pauses. It's rapid-fire. And it's that confidence and lack of ego that allows him the time to examine the issues and questions at hand, no matter how lowly or silly others may think them, and address them appropriately".
We're confident Cook has just what it takes to maintain Apple's position as the greatest company in the world, and this bio is proof that he has the skills, the experience, and the approval of Steve Jobs.
Good luck, Tim Cook – we're looking forward to the years ahead.