Let's not forget that Steve Jobs hasn't said goodbye to Apple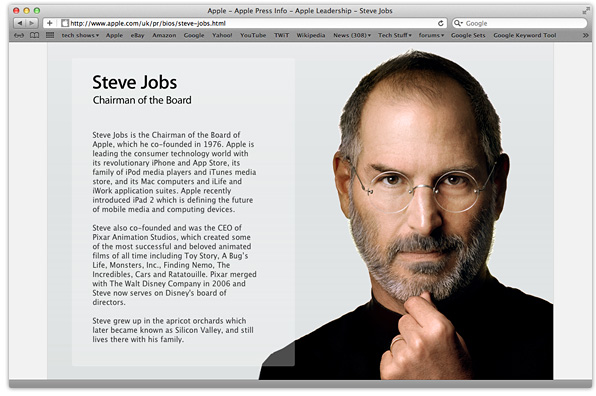 I don't need to remind you that Steve Jobs stepped down as CEO of Apple yesterday, and while those of us who are fans of the company, and Steve in particular, are saddened by the news, let's not forget that he hasn't said goodbye to Apple.
Although he has stepped down as CEO – making way for Tim Cook, previously the Chief Operating Officer, to take his place – Steve is still very much involved in the company he founded back in 1976. In his resignation, Steve said:
"I would like to serve, if the Board sees fit, as Chairman of the Board, director and Apple employee."

"I believe Apple's brightest and most innovative days are ahead of it. And I look forward to watching and contributing to its success in a new role."
Tim Cook may be the Chief Executive, but Steve will still be there to lend a hand, and according to a report from Walt Mossberg today – a highly respected technology journalist whom Steve has previously described as "a friend of Apple" – Steve will still be pulling a few strings behind the scenes.
Mossberg cites sources close to the Cupertino company who say Steve will continue to be involved with developing new products:
"To be very clear, Mr. Jobs, while seriously ill, is very much alive. Extremely well-informed sources at Apple say he intends to remain involved in developing major future products and strategy and intends to be an active chairman of the board, even while new CEO Tim Cook runs the company day to day."
As a technology journalist myself – albeit not as respected as Mossberg, but maybe one day – I've read a lot of stories regarding Steve's resignation today. And while the majority of those are very well written, some would suggest that there is no Steve Jobs anymore. And like Mossberg says, though he may be ill, he's still very much alive – and as long as he's with us I'm sure he'll still be with Apple in some way or another.