iHome announces new Lightning-enabled accessories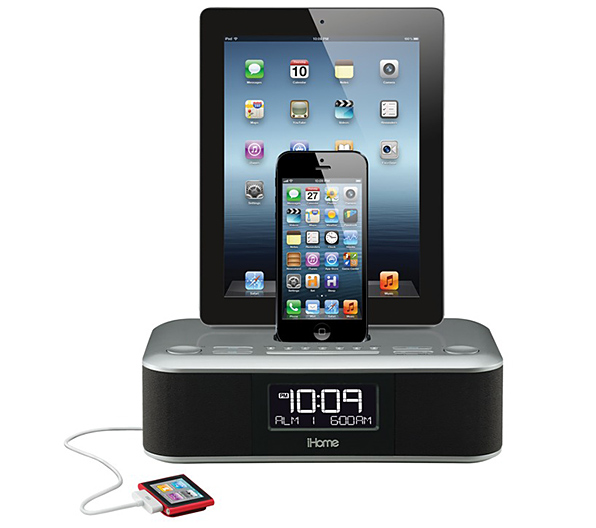 Accessory maker iHome has unveiled its latest Lightning accessories for Apple's new crop of iOS devices. It has two new speaker docks, one of which is compatible with both the fourth-generation iPad and the iPad mini, and the iPhone 5 and latest iPod touch. The other looks like an awesome retro boom box.
The iDL100 Triple Charging Stereo (pictured above), priced at $149.99 (approx. £94), is perfect for those with multiple iOS devices. It offers two Lightning docks — one for iPhone and iPod touch, and one for iPad and iPad mini — plus a universal USB dock that's compatible with older iOS devices with the 30-pin connector. There's also an auxiliary input for other devices, and a 3.5mm headphone jack.
The iBT44, priced at $199.99 (approx. £125), is my favorite of the two. It's styled to look like a retro boom box, and it offers Bluetooth connectivity so that you can stream music to it wirelessly from a whole host of devices — not only those powered by iOS. It also has a built-in FM radio, and can operate on six D batteries for portability.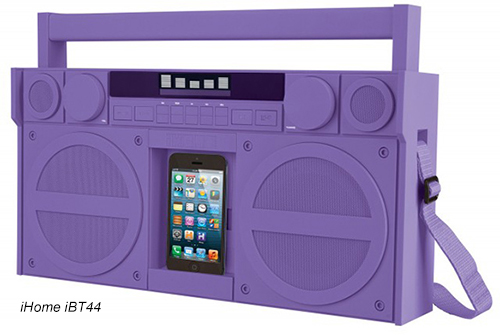 iHome is showing off its new Lightning docks at CES in Las Vegas next week, and the company is confident this is its richest product line yet.
"The products we're unveiling at CES 2013 feature increased capabilities that address the ever-changing landscape for accessories," said Evan Stein, Director of Marketing at iHome. "This is one of our richest and most diverse product lines that we have introduced at CES."
iHome hasn't yet announced when its new Lightning products will begin shipping, but hopefully we'll hear more next week.
Will you be looking to pick one up when they go on sale?
[Via: 9to5Mac]