Feature – iCloud revealed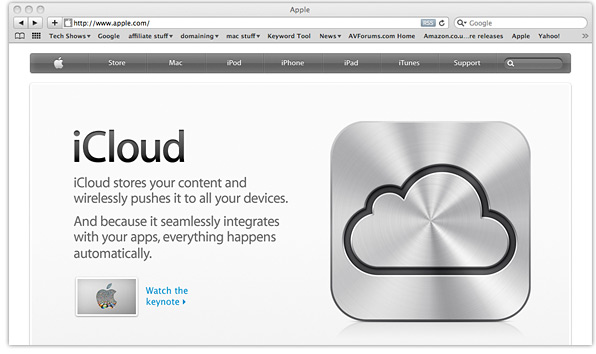 So much has been rumoured & speculated over what Apple's iCloud service would entail it's a relief to finally have concrete information from both the WWDC keynote and Apple's website. As it turns out, iCloud provides solutions for storing, syncing and backing up your music, apps, books, photos, documents and more!
Music
Currently, when you buy music via iTunes on your Mac, iPad, iPod or iPhone it remains on that one device – you have to manually back it up and copy it over to all of the other devices that you might want to listen to it on. With iCloud, any music you purchase in iTunes will be stored in the cloud and automatically pushed to all of your other devices (including PCs), regardless of which device you used to purchase it.
So what happens to all the music you ripped from cds, or purchased from sites such as Amazon? It turns out that for $24.99 a year, a feature called iTunes Match will scan your library and determine which ones are available in the iTunes store – any matches will be added to your iCloud library. Any songs not matched can be manually uploaded.
A beta version of iTunes in the cloud is available in the US now, but iTunes Match won't be available untill Autumn. Unfortunately there is no information regarding the availability of iTunes in the cloud for countries outside of the US.
Apps, iBooks, Documents & Backups
Along with making purchased music available to all of your devices without syncing, iCloud will do the same for both apps and iBooks. If you start reading a book on one device, you will be able to save a bookmark and continue from that point on one of your other devices.
iWork documents will also be able to be stored in the cloud, meaning that you will longer have to worry about having different versions of the same document on multiple devices – any changes you make to a document will be automatically saved. Third party developers will be able to include iCloud functionality in their own apps too.
Backing up an iOS device has always been a hassle, thankfully iCloud looks set to make it much easier by automatically backing up your personal data, purchased music, apps and books via WiFi. To make the process faster it will only backup things that have changed – so it doesn't need to start from scratch each time.
Photos
With iCloud any photograph taken on an iPhone, iPod Touch or iPad will be automatically made available to all of your other devices, including Macs, PCs and the Apple TV. A Photo Stream album stores your last 1000 photos for up to 30 days – any of the photos that you want to keep forever can be saved to either your camera roll or another album.
Contacts, Calendar & Email
This part of iCloud will be familiar to MobileMe subscribers – it will allow you to keep all of your address book details, calendar and mail data synced between all of your devices. You will also get a free me.com email account.
Apple will provide users 5GB of storage for mail, documents and backups. That might not sound like much space, but it's worth noting that apps, books, Photo Stream photos and purchased music don't take up any of the storage space.
Unless you need to use the iTunes Match service ($24.99 a year) iCloud will be completely free!
Personally I can't wait to start using iCloud, let me know your thoughts by leaving a comment below.