How to display a login window banner in OS X Lion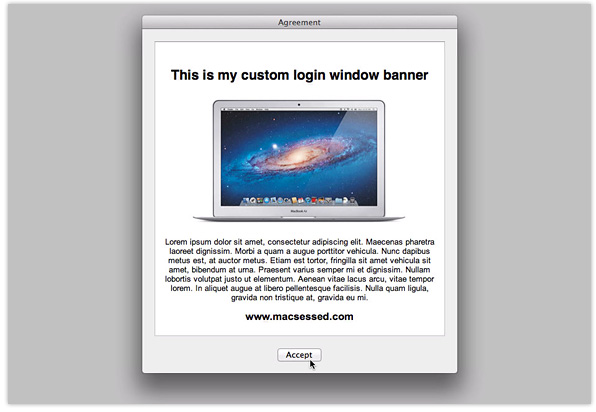 In a previous tip we explained how you can display messages at the bottom of the login screen in OS X Lion. While it's a handy feature, the resulting messages are quite easy to miss. Thankfully though, another little-known feature allows you to display a login window banner, which users have to acknowledge before proceeding.
Login window banners are ideally suited for 'Acceptable Use Policies', but you could also use one to display your contact information. They can contain a mixture of text and graphics.
To create a login window banner you just need to follow these simple steps:
1. Create a new document in TextEdit, or your favorite text editor, and enter whatever information you would like to be displayed.
2. Save the document with the name 'PolicyBanner', and in one of the following formats: Plain Text (.txt), Rich Text Format (.rtf), or Rich Text Format Directory (.rtfd).
3. Finally, move the newly created document to the following folder on your Mac: Library > Security, and it will then appear before the main login screen loads.
If you found this tip useful please share it via one of the buttons below.