Highlights from Tim Cook's first interview at All Things Digital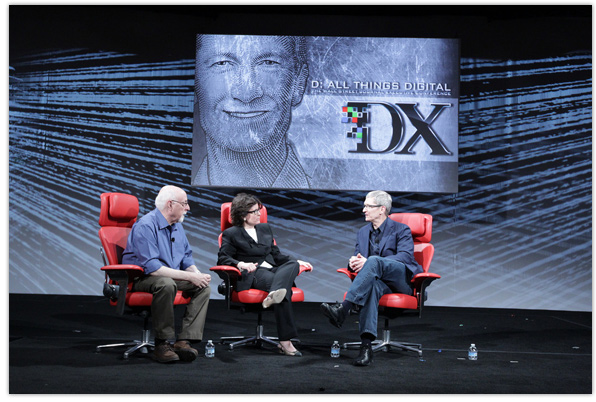 As Apple's newly-minted CEO, Tim Cook took Steve Jobs's place at this year's AllThingsD (D10) conference, and as you might have expected, he had plenty of interesting things to say. Cook talked about the Apple TV, Siri, Facebook integration in iOS, Steve Jobs, and more.
Here are some of the highlights from his interview.
One of Cook's first questions from Walt Mossberg and Kara Swisher was about his new role at Apple, and how he would characterize his position. "It's an incredible time to be with Apple," Cook said. "I'm loving every minute of it, and I think everybody at Apple is loving every minute of it, too… The juices are flowing, and we have some incredible things coming out."
One of those things could be Facebook integration in iOS 6. When questioned about Apple's relationship with Facebook, Cook said that "the relationship is solid," and hinted at Facebook integration in future iOS releases. "Facebook has hundreds of millions of customers and anyone with iPhone or iPad wants to have the best experience with Facebook on any device," Cook said. "So stay tuned."
There are also good things coming to Siri in the coming months, according to Cook. While he gave away no upcoming features, he did say that he believes we're "going to be really happy with where it's going." Apple is "doubling down" on its existing capabilities and looking to add many of the features we've found missing from its initial release.
On Apple TV, Cook said it's not a "hobby," despite how Steve Jobs felt about it, and that although it isn't one of the company's biggest products, it is becoming more popular. The second-generation Apple TV sold 2.8 million units during its first year, Cook revealed. While the third-generation model has sold 2.7 million in just 60 days.
One of the most interesting topics, at least for me, is how Apple names its devices. The "S" in iPhone 4S stands for "Siri," Cook said. Once a certain product establishes itself, Apple drops its naming conventions altogether – as it did with the new iPad. However, it adds a convention when a product gets a distinct feature or form factor – like Siri in the iPhone 4S, or the MacBook Air, or the iPod nano.
Inevitably the conversation turned to Jobs, Apple's co-founder, who passed away last October. Cook said he learned a lot from Jobs, and that the months after his death were "absolutely the saddest days" of his life. "That sadness was then replaced by this intense determination to do well," Cook said.
The entire interview is well worth watching, and Cook talks about a lot more – like Apple's supply chain and its Chinese factories, and its patent wars against the likes of Google and Samsung – that we didn't mention here. You can see the best bits in this 17-minute video published today by AllThingsD.
[Image credit: Asa Mathat | All Things Digital]