Every Steve Jobs interview with AllThingsD can now be downloaded from iTunes for free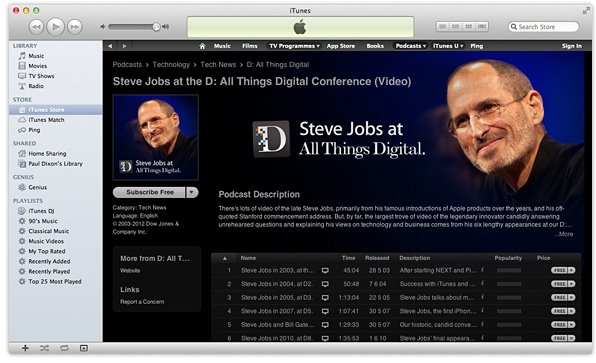 Tim Cook had a lot of interesting stuff to say during his interview at AllThingsD's D10 conference earlier this week. He touched upon Apple's plans for Siri, its view on the Apple TV, and how the Cupertino company names its products. But how did his interview compare to those of his predecessor, Steve Jobs?
Well, you can now go back and find out for yourself by downloading every interview Steve Jobs had with All Things D since the first conference back in 2003. The entire collection is now available on iTunes — both in video and audio-only formats — and is completely free to download.
The collection's heartfelt description reads:
There's lots of video of the late Steve Jobs, primarily from his famous introductions of Apple products over the years, and his oft-quoted Stanford commencement address. But, by far, the largest trove of video of the legendary innovator candidly answering unrehearsed questions and explaining his views on technology and business comes from his six lengthy appearances at our D: All Things Digital Conference, from 2003 to 2010. As a memorial to a great man, and, in the spirit of sharing a priceless piece of history, we are making all six of these appearances available free, in high quality. We thank Apple for its cooperation in making these videos available for all.
Of course, most of us have seen clips from these interviews on YouTube throughout the years, but now we can watch each one in its entirety. One thing I will say, however, is that you'll probably need to start downloading the collection a few hours before you plan to enjoy it. There are 6 files in total, 5 of which weigh in between 2GB and 3GB in size.