Google launch 'Google Drive' cloud storage service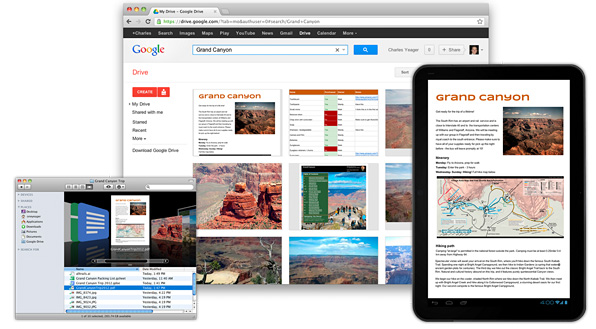 Google has today launched Google Drive, their much-anticipated cloud-based service for sharing and storing files. Initially, the service can be accessed using a Mac, PC, or Android device, with an iOS app promised to be "coming soon".
"Today, we're introducing Google Drive—a place where you can create, share, collaborate, and keep all of your stuff. Whether you're working with a friend on a joint research project, planning a wedding with your fiancé or tracking a budget with roommates, you can do it in Drive. You can upload and access all of your files, including videos, photos, Google Docs, PDFs and beyond."
Google Drive comes with 5GB of free storage, and you can add an extra 25GB for $2.49 a month, 100GB for $4.99 a month, or 1TB for $49.99 a month.
One of Google Drive's most compelling features is the ability to open over 30 different file types in your browser, including HD video and documents created in Adobe Photoshop & Illustrator – you don't need to have the programs installed on your computer.
For more information about Google Drive, and to sign up for the service, visit this page.