Flipboard arrives on iPhone, gets endorsement from Phil Schiller
One of the most acclaimed news readers for the iPad was updated yesterday, and not only did it get some awesome new features, but it finally got iPhone support as well. The latest version of Flipboard is so great, in fact, that Apple's Phil Schiller personally recommends it.
Screenshots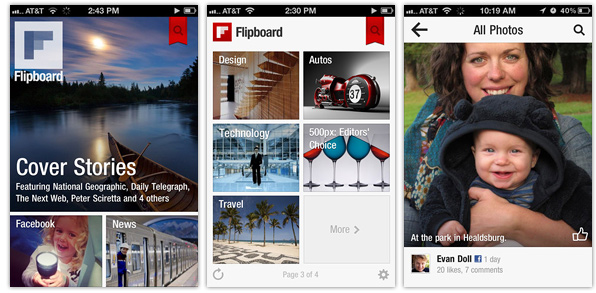 Flipboard version 1.7 is available to download from the App Store now. As always, it's completely free, and it now works on your iPhone and iPod touch, as well as your iPad. What's more, the iPhone edition has a new Cover Stories feature that displays a selection of articles and photos that are being shared with you, and it gets smarter every time you use it – learning the things you like to read, and those you'd rather ignore.
The update also brings a new way of browsing that allows you to quickly flick thorough articles with your thumb, making it easier and faster than ever before to get through the day's news. And with Flipboard accounts, you can sign in on both your iPhone and iPad and your favorite content is there wherever you want it.
Apple's Senior Vice President of Worldwide Marketing, Phil Schiller, endorsed it on Twitter earlier today. Schiller simply wrote in his tweet:
"New Flipboard app for iPhone is very nice."
And I certainly agree with him. If you haven't already tried Flipboard, check it out now.