HumanClock – an iPad clock with humans and a moose?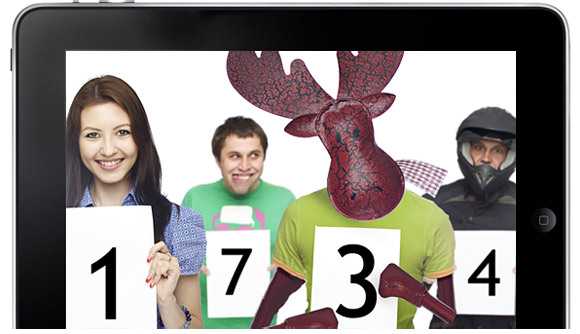 I've been thinking of adding a new category to macsessed for all the slightly unusual or quirky news & apps I discover, and HumanClock is the kind of app that would fit perfectly in such a category. Available for the iPad and iPhone, it's a clock that shows you the time via a random selection of people holding up numbers.
According to Mobile Creators, the developers responsible for it: "There are three things one found contemplate endlessly: burning fire, flowing water and… The way HumanClock app works." I'm not sure what that means either, but on the plus side the app has been quite nicely done. The images are all high quality – I'm guessing they came from a stock photo library, and I like the way they randomly slide in and out either as the time changes, or when you touch the screen.
There are absolutely no options – you just open the app and a random selection of people appear, for some bizarre reason, a metal looking moose (see above) also sometimes holds one of the numbers!
HumanClock costs £0.59 ($0.99). It's a universal app so the same version will work on both the iPad & iPhone.