Fisher-Price makes iPhones kid-friendly with this fantastic case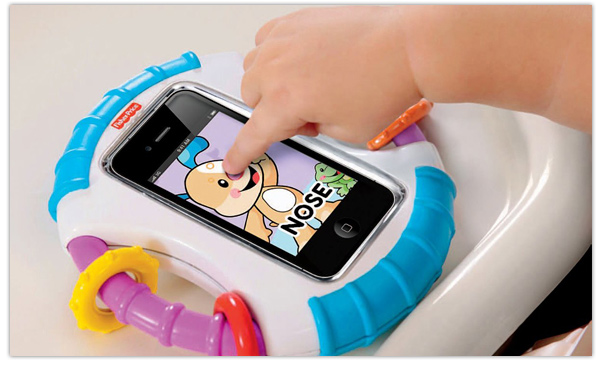 I don't know what it is about the iPhone, but I've discovered it's the only thing in our home guaranteed to keep our kids happy. Even our eight-month old daughter loves watching TV shows on it, and playing with apps that are filled with bright colors and funny noises.
It works every time, but there is a big downside to handing your expensive iPhone over to a baby: It almost always ends up in their mouth, and when you get it back it's wet and sticky. Which is worrying when you consider that all that dribble could have made its way into your dock connector or speaker grille.
However, thanks to this wonderful accessory from Fisher-Price, parents need never worry about handing their iPhone or their iPod touch over to their kids again. It's called the Laugh & Learn Apptivity case, and not only does it cover up your device's ports, but it also protects it from all the smacks, scuffs, and drops that it will undoubtedly endure when in the possession of your little ones.
The case is securely fastened with a special lock that means no matter how hard they try, children will not be able to remove your device from the case. The 'easy-grasp handles' make it easy for babies to hold onto the device, and the colorful rattle beads on each side mean the case is plenty of fun even without your device inside.
What's more, Fisher-Price has accompanying Laugh & Learn iPhone applications available in the App Store, which, together with the case, promises to help improve your child's "social and emotional development, hand to eye co-ordination, visual development and sound awareness."
Laugh & Learn Apps
The Fisher-Price Laugh & Learn Apptivity case is compatible with all iPhones, from first-generation to fifth-generation, and the iPod touch from second-generation to fourth-generation. Fisher-Price says the device is priced at "around £13 ($15)," but at the time of writing this piece, Argos has it on sale for just £9.99.