Electronic Arts launches Origin for Mac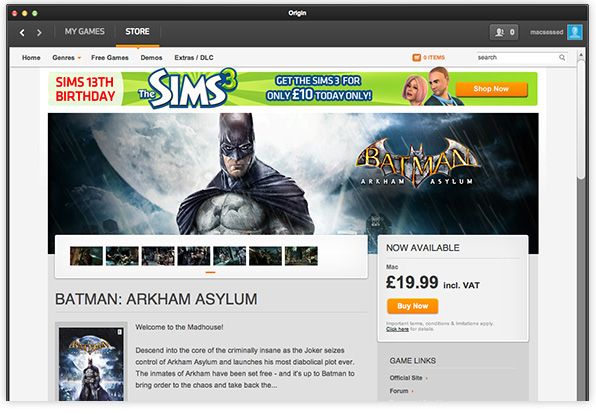 Electronic Arts (EA) has officially launched a version of its Origin digital games distribution service for the Mac. The service, which is already available for both iOS and PC, was first announced for the Mac towards the end of last year and had an alpha release for testing purposes just a couple of weeks ago.
Besides instant game downloads and the ability to play on multiple Macs, Origin offers social connectivity, live streaming demos, free-to-play games, and a beta cloud storage feature which allows you to save your progress online, and then continue from where you left off on another machine.
Another nice feature is dual platform play. Select EA games can be played on both a Mac and a PC – you only need to purchase them once from the Origin store.
The service boasts 48 titles for the Mac at launch including: Batman: Arkham City GOTY Edition, Dragon Age II, LEGO Star Wars, LEGO Batman, LEGO Harry Potter, The Sims 3, Tropico 3 – plus numerous expansion packs and demos.
To mark the launch of the service for the Mac platform, Origin is having a "Simtastic 13th Anniversary Sale", which allows users to download (for a limited time) The Sims 3 base game and expansion packs for as little as £10 ($10).
Origin requires a Mac with at least an Intel Core 2 Duo Processor running OS X 10.6.8 or higher. You can download it for free from EA's Origin website.