EA holds biggest game sale ever for July 4th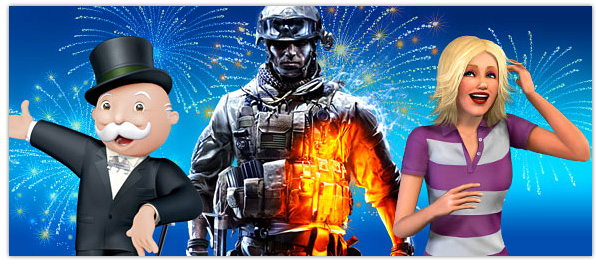 Many iOS developers are reducing their apps & games to commemorate America's Independence Day this coming Monday, July the 4th. EA games in particular has gone all out – hosting its biggest ever iOS game sale, with over 40 of their biggest titles from as little as $0.99 (£0.59), for your iPhone, iPod touch and iPad.
Featured in the sale are the latest FIFA, Madden NFL and Need for Speed releases, in addition to the recently released Battlefield: Bad Company™ 2 first-person shooter for the iPad – which has been slashed down to just $0.99 (£0.59):
"OUR BIGGEST, BADDEST FPS. NOW ON iPAD. Based on the bestselling console game from DICE, feel the adrenaline-pumping intensity of close-quarter combat and unleash devastation from the air as you battle in jungle heat, arctic snow, and desert dust. Go all-out in full online multiplayer mode, and get a modern-warfare simulation on iPad that's second to none."
Transformers: Dark Of The Moon HD is the official game of the new Transformers movie, and it only hit the App Store last week – now just $0.99 (£0.59) on your iPhone and iPad:
"SAVE EARTH FROM THE DECEPTICONS! Play as the mighty OPTIMUS PRIME, or fan-favorite BUMBLEBEE, and stop the evil Decepticons from taking over the Universe! Crush your enemies in fierce robot combat, or change into a vehicle and blast your foes on the road."
Whether you're a fan of sports sims, racing games, first-person shooters or board & puzzle games, you're guaranteed to find a title that will keep you entertained this weekend. Check out the full list of EA titles now on sale below.
iPhone & iPod touch games: