British Airways starts equipping cabin crew with iPads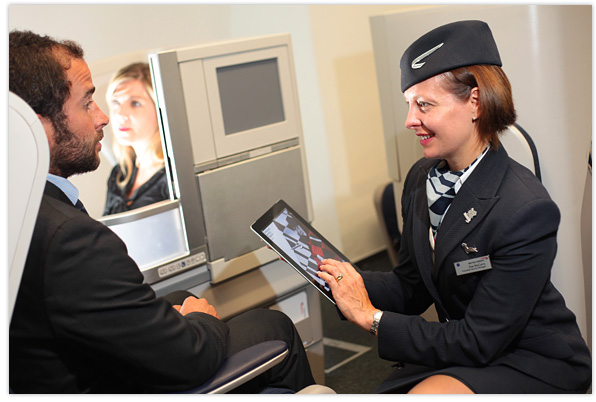 In a move to enhance the level of service offered to its customers, British Airways are running a trial which involves equipping their cabin crew with iPads. Announced yesterday, the company believes Apple's tablet can help them to give their passengers a "truly bespoke, personalised service".
Cabin crew are able to use their iPads to find out where each passenger is seated, whether or not they are flying with any companions, their Executive Club status and any special dietary needs.
The devices also contain information such as safety manuals, timetables, customer service updates and a full list of the passengers traveling on the flight. The list, which gets updated via 3G just before departure, is traditionally done with a long scroll of paper.
The iPad's 3G capabilities also come in handy for any passenger problems prior to takeoff. Cabin crew can use their iPad to make ground-based colleagues aware of the problem – and they can then look for a resolution during the flight.
Bill Francis, British Airways' head of inflight customer experience:
"The iPad is already allowing us to offer a more personalised onboard service, but the possibilities for future development are endless. We're receiving great feedback from cabin crew and customers already. It allows the crew to offer the thoughtful service they want to deliver and customers are treated as valued guests."
The trial currently involves 100 members of British Airways cabin crew, and the company plans to roll it out to all of its senior cabin crew members over the next few months.
[Via TUAW]