Apple's new iPad gets glowing reviews from tech pundits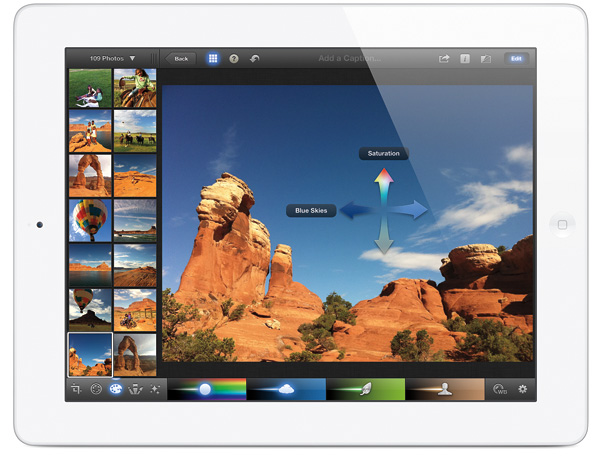 With that new high-resolution Retina display, a 5-megapixel iSight camera that takes great photos, quad-core graphics, and speedy 4G LTE connectivity, Apple's new iPad never looked like it would disappoint. But just in case you needed confirmation, here's a snippet of the first reviews from some of the tech world's biggest pundits:
Walt Mossberg – The Wall Street Journal
"It's hard to illustrate on a Web page or in print how brilliant this new display is. You have to see it… My epiphany came when I placed my iPad 2 next to the new model, with the same text on the screen. Letters and words that had seemed sharp on the older model five minutes earlier suddenly looked fuzzier… I loved the photos and videos it took, indoors and out… Since it launched in 2010, the iPad has been the best tablet on the planet. With the new, third-generation model, it still holds that crown." – Full review
Joshua Topolsky – The Verge
"In all, the new iPad lived up to my expectations on the performance and battery fronts — and I'm not sure how it might have surpassed them. It's everything the previous generation was, and then some. Stable, reliable, speedy, and long-lived. What more can you ask for?" – Full review
Jason Snell – Macworld
"It's not smaller or lighter, but it's got a remarkable screen, a much better rear camera, and support for cellular networking that can run at Wi-Fi speeds. It's the iPad that millions of people have embraced, only one year better." – Full review
Charles Arther – The Guardian
"The iPad 3 puts Apple a mile ahead of anything we've seen from Android tablets. The interface is unchanged. But all sorts of incremental details – especially the screen, but also the camera capability and so the graphics heft, and the mobile broadband capability – have been ratcheted up. It's hard to see anyone catching this product because it offers what people want: access to computing wherever you are." – Full review
The Loop – Jim Dalrymple
"I struggled after the event to put the right words together to describe the display and a week later I'm still lost for the proper analogy. The only thing I can think of that comes close is comparing it to the first time you ever saw an HDTV. Remember how startling it was to go from one of those giant standard definition projector TVs to an HDTV? That's what this is like." – Full review
Shane Richmond – The Telegraph
"If you have been holding off getting a tablet then this is the one to go for. In my view, it's the best that money can buy. Existing iPad owners who are thinking of upgrading should take a look at this new device. You'll see the difference very, very clearly indeed." – Full review
So there you have it: the new iPad is yet another smash hit from the Cupertino company. I trawled through a whole host of reviews before putting this post together, and I couldn't find one that warned readers not to buy the iPad, or branded it a poor product. If you weren't already certain that the new iPad is worth your hard-earned cash, that should confirm it.