Apple's new 21-inch iMac gets torn down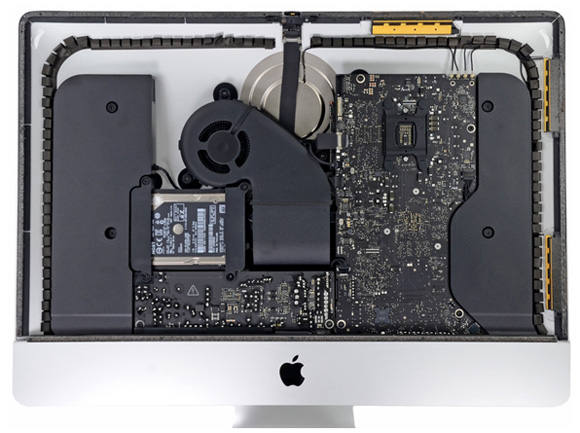 With Apple's new iMac now shipping, the all-new all-in-one has received its customary teardown from the guys over at iFixit. Just like Apple's recent MacBooks, the new iMac is difficult to get into, and difficult to repair. What's more, it bears no resemblance to its predecessors on the inside.
In addition to a new redesign on the outside, which makes it just 5mm thick at the edges, Apple's new iMac has been completely overhauled on the inside, too. It now utilizes a 2.5-inch laptop hard drive – as opposed to a 3.5-inch desktop hard drive – which frees up some valuable space. It's surrounded in rubber in an effort to minimize vibration.
Apple has also introduced one large centralized fan, which replaces the numerous smaller fans in previous iMac models. Another change with this machine is that it boasts two microphones rather than one, which should improve sound quality on FaceTime and Skype calls. What's more, this particular machine was assembled in the United States. Apple normally has its Macs assembled in China, but some of the new models are being built on its home turf.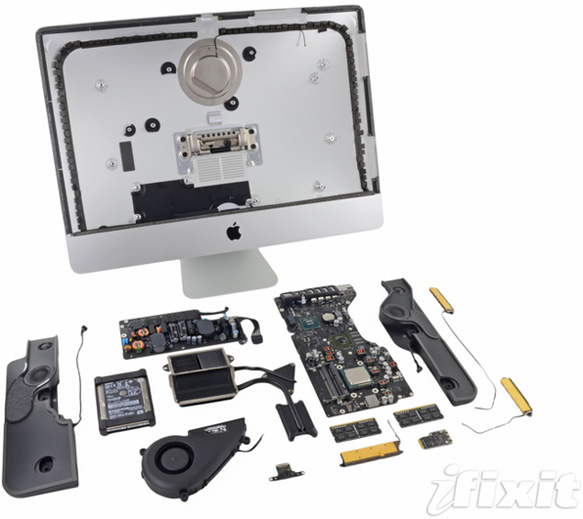 Getting into the new iMac isn't easy. In an effort to make the display as thin as it possibly can be, Apple has glued the LCD and cover glass to the machine. It was previously held in by magnets, iFixit reports, which made it significantly easier to remove. But this time a heat gun is necessary to loosen the adhesive.
Things don't get a great deal easier once the display's out of the way, either. Although the RAM, hard drive, and CPU can be replaced, they sit behind the logic board, which means the entire iMac has to come apart in order to gain access to them. That means a simple RAM upgrade is going to be an incredibly tedious task, and maybe one that most won't want to undertake at home.
As a result of this, iFixit has awarded the new iMac a repairability score of 3 out of 10. In comparison, last year's iMac was awarded 7 out of 10.