Apple updates iBooks and iBooks Author apps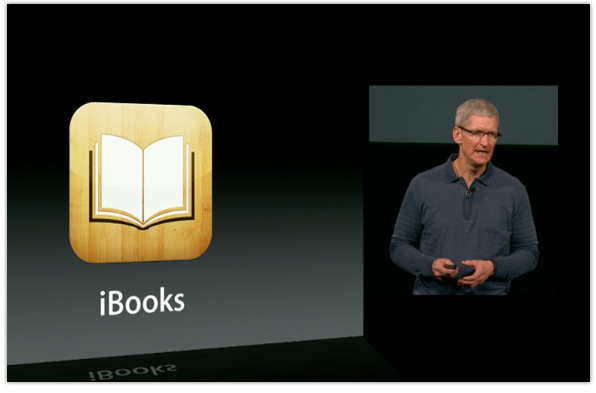 The new Macs and definitely the new iPads stole the show at the Apple event today, but there were also some interesting software announcements made. As revealed by Apple CEO, Tim Cook, there is a new version of iBooks coming out, packing a whole slew of new features.
First up is continuous scrolling, meaning that you will get rid of the anachronism that is pagination on a digital device. Just keep scrolling and more text will appear, as one expects text and more content to appear on a web page, for instance.
The new version also has a better integration with iCloud, which is almost standard procedure for Apple in terms of software updates nowadays. Essentially you can keep your reading perfectly synchronized no matter what device you are on. Should you not have the book you want to read on a particular device, just tap the button, wait for the book to finish downloading and you're off, right where you left off last time.
Sharing a bit of the text in a book is also a lot easier now, with a pop-over option enabling you to e-mail, tweet or share on Facebook, right from inside the app. How much text you are able to share at any given time or if authors and publishers can opt-out of this feature was not elaborated on during the keynote. Sharing choice bits from your favorite books will certainly get a lot easier with this new feature.
Making it possible to penetrate new markets with iBooks, Apple also announced that there is support for 40 different languages in the new version. The specific examples given were Korean, Chinese and Japanese, which just happens to be some of the key markets Apple is targeting these days.
iBooks 3.0 is free in the App Store and available right now, or at least later during the day, if nothing else.
One of the main aims of the new version of iBooks Author, also unveiled at the event, is the educational market. Numbers provided by Tim Cook, state that there are already some 25,000 schools using iBooks Textbooks in the US and materials are available covering 80% of the high school curriculum, again in the US. Numbers for the rest of the world were not given. Apple appears to be listening to what the educational community wants to do with iBooks Author.
New in the updated version of iBooks Author are templates for portrait-only books. One of the frequent complaints about the first version of iBooks Author has been the lack of just portrait only books. Books can now also contain custom fonts, expanding on what is already available in iOS, as well as some new capabilities for creating mathematical expressions. Just like with the portrait book layout, many have opined on the lack of better mathematical capabilities in iBooks Author. In the realm of making books even more interactive, Apple also included multi-touch widgets, complementing the already quite impressive lineup of available widgets.
Another new feature definitely aimed at the educational market is the ability to update books much more easily, although I can imagine it would be more than welcome for anyone who writes and publishes materials that can change rapidly.
iBooks Author is a free download from the Mac App Store and just like iBooks 3.0, should be available now or later during the day.