Apple unveils iBooks Author – a free authoring tool for Mac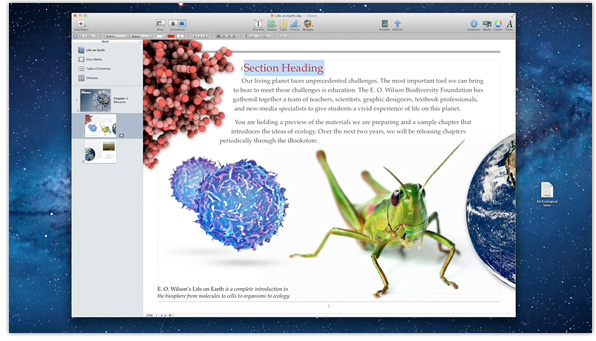 Following the unveiling of iBooks 2 at today's education-themed media event in New York, Apple announced iBooks Author – a free authoring tool that allows anybody with a Mac to create interactive textbooks which can be shared with iPad owners, or submitted to the iBookstore.
From the iBooks Author app description:
"Now anyone can create stunning iBooks textbooks, cookbooks, history books, picture books, and more for iPad. All you need is an idea and a Mac. Start with one of the Apple-designed templates that feature a wide variety of page layouts. Add your own text and images with drag-and-drop ease. Use Multi-Touch widgets to include interactive photo galleries, movies, Keynote presentations, 3D objects, and more. Preview your book on your iPad at any time. Then submit your finished work to the iBookstore with a few simple steps. And before you know it, you're a published author."
Today's announcement confirms previous speculation that the Cupertino company would release a "GarageBand for eBooks", and based on screenshots and a video showcasing the tool on their website, it certainly looks easy to use.
iBooks Author is available to download from the Mac App Store.