Apple unveils iBooks 2 with interactive textbooks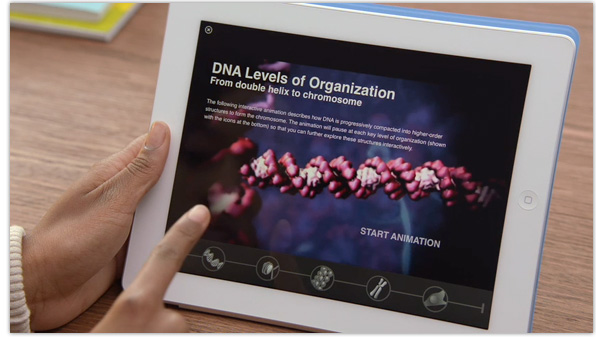 At today's much anticipated 'education announcement' in New York City, Apple's senior vice president of Worldwide Marketing – Phil Schiller, took to the stage to unveil iBooks 2 – an updated version of the company's eBook application, which introduces new interactive textbooks.
From an Apple press release:
"iBooks textbooks offer iPad users gorgeous, fullscreen textbooks with interactive animations, diagrams, photos, videos, unrivaled navigation and much more. iBooks textbooks can be kept up to date, don't weigh down a backpack and never have to be returned."

"Education is deep in Apple's DNA and iPad may be our most exciting education product yet. With 1.5 million iPads already in use in education institutions, including over 1,000 one-to-one deployments, iPad is rapidly being adopted by schools across the US and around the world," said Philip Schiller, Apple's senior vice president of Worldwide Marketing. "Now with iBooks 2 for iPad, students have a more dynamic, engaging and truly interactive way to read and learn, using the device they already love."
This video from Engadget features a demo of some of the new textbooks:
The initial list of publishers who will create educational titles for the iBookstore include Houghton Mifflin Harcourt, McGraw-Hill and Pearson. Most textbooks will cost $14.99 or less.
iBooks 2 is available as an update to the existing app, or as a free download from the App Store.
For more information check out this section of Apple's website.