Apple unveils iTunes U app for iOS devices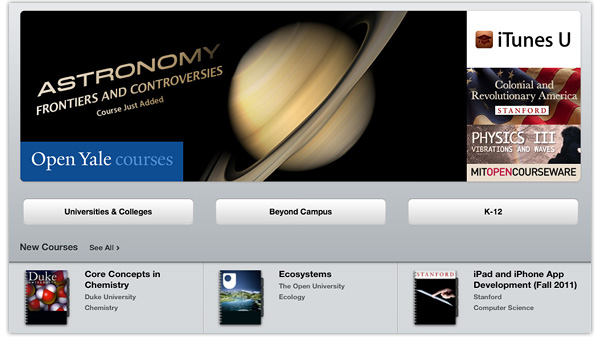 Apple's final announcement at today's education-focused media event saw senior vice president of Internet Software and Services – Eddy Cue, take to the stage to unveil an iTunes U app for the iPad, iPhone and iPod touch. The app builds on the existing iTunes U content available via the iTunes Store, which Cue revealed has had over 700 million downloads to date.
From the iTunes U app description:
"The iTunes U app gives you access to complete courses from leading universities and other schools — plus the world's largest digital catalog of free education content — right on your iPad, iPhone, or iPod touch. Whether you're majoring in molecular biology at a university, taking Spanish in high school, or just interested in European history, you now have a valuable tool to help you learn anytime, anywhere."
Universities such as Cambridge, Duke, Harvard, Oxford and Stanford provide free educational content via iTunes U, and besides more traditional subjects such as science, mathematics and literature, you can also find courses teaching iOS programming and web design.
The iTunes U app is available to download for free from the App Store.