Apple to report Q2 2013 earnings on April 23rd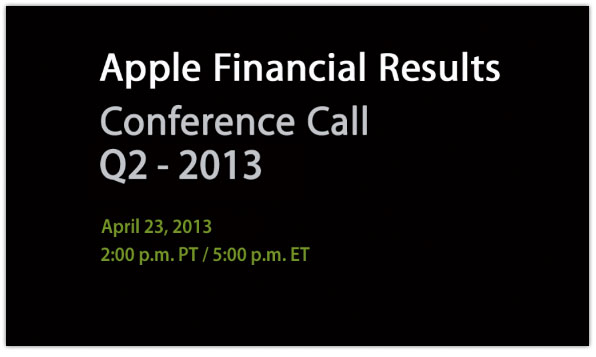 Apple has announced that it will be holding an earnings call to discuss the financial results of its second fiscal quarter of 2013 on Tuesday, the 23rd of April, at 2.00pm Pacific Time (10.00pm here in the UK). As per usual, the company will be providing a live audio stream of the call on its website.
Back in January, Apple reported record Q1 revenue of $54.5 billion and a record net profit of $13.1 billion, or $13.81 per diluted share. The iPhone was the company's most popular product during the quarter, with a record 47.8 million units sold, while the iPad came in second with 22.9 million units sold.
Compared to the first quarter, which includes holiday sales, Apple's Q2 figures are expected to be lower. In addition, the company hasn't released any major products during the quarter.
Apple has previously said that it expects Q2 revenue of between $41 billion and $43 billion, and gross margin between 37.5 and 38.5%.