Apple to launch 2011 back to school promotion on Wednesday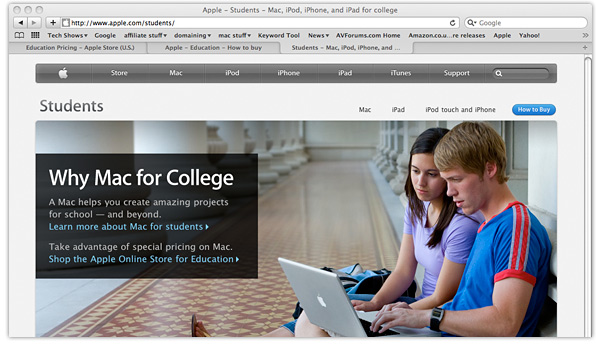 According to Chronic Wire, Apple will be updating in-store displays on Tuesday night in preparation for the Wednesday launch of their annual back to school promotion – which offers discounts & deals for students and academic staff purchasing new Macs. The next generation MacBook Air could also be released on the same day.
Last year's back to school promotion included discounts on the MacBook, MacBook Pro, MacBook Air & iMac – plus each new Mac also came with a free 8GB iPod Touch. Apple also offered discounts on the higher capacity iPod Touch and all other iPod models.
The free iPod Touch deal has featured in the last three back to school promotions, and it would be safe to assume that it will also be part of this year's. Perhaps Apple will also include the iPad 2 – it would be the ideal opportunity for them to push the educational benefits of the device, though for obvious reasons I'd expect to see them offering a discount rather than including them for free with each Mac.
Now that the MacBook Air is the joint cheapest Apple laptop – alongside the ageing white MacBook, it would make sense for Apple to time the release of the next generation models with the start the back to school launch – I can see many students being tempted by both the price and portability of the Air.
Eligible shoppers will more than likely have until early September to take advantage of any deals, and of course it's worth noting that Apple offer student and teacher discounts on their products throughout the year.
If you are thinking of getting a new Mac for school or college which model are you planning to buy?
Update: Chronic Wire is now reporting that it will be unlocked iPhones, not new MacBook Airs heading to US Apple stores this Wednesday.
[Via 9to5Mac]