Apple Thunderbolt to FireWire Adapter now available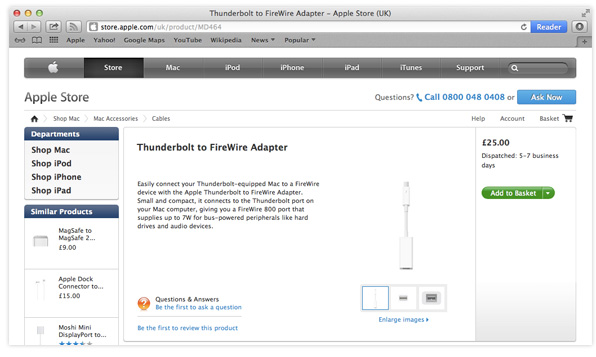 When Apple unveiled the MacBook Pro with Retina display at WWDC back in June, it also announced a couple of Thunderbolt adapters which allow users to connect the machine to networks via Ethernet, and attach FireWire 800 devices.
While the Thunderbolt to Ethernet Adapter went on sale immediately, customers have had to wait until today to purchase the Thunderbolt to FireWire adapter.
Product description:
"Easily connect your Thunderbolt-equipped Mac to a FireWire device with the Apple Thunderbolt to FireWire Adapter. Small and compact, it connects to the Thunderbolt port on your Mac computer, giving you a FireWire 800 port that supplies up to 7W for bus-powered peripherals like hard drives and audio devices."
As neither the Retina MacBook Pro or the MacBook Air lineup have FireWire 800 ports built-in, currently the only other way to connect FireWire devices to them is via one of Apple's Thunderbolt Displays.
The Thunderbolt to FireWire Adapter (part number MD464) is available to buy from the Apple Online Store for £25.00 in the UK and $29.00 in the US.
Will you be ordering one?