Apple removes iPod Click Wheel games from the iTunes store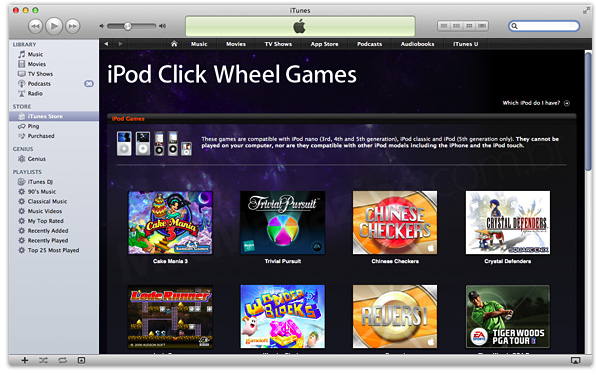 Those of you who never owned an older iPod may not be aware that there was once a section in Apple's iTunes store dedicated to games for click wheel devices. It launched back in 2006 alongside the Cupertino company's iPod classic, but today, Apple closed up shop – putting click wheel games to rest.
Although the games debuted with the iPod classic, they were also compatible with the iPod nano and the iPod video. There were 49 games available in total, some of which were from big-name developers like Gameloft, EA, PopCap and Disney. However, the birth of touchscreen devices and the popularity of the iOS platform means there's no longer a demand for click wheel software.
What's most interested about the death of click wheel games is that it comes at a time when Apple is reportedly planning to discontinue the last click wheel iPod – the iPod classic. Despite Steve Jobs' promise that the device would live on, a demand for iOS devices – like the iPod touch – have meant other iPod devices haven't sold so well.
It always seemed like the iPod classic would one day be discontinued – especially since Apple's focus seems to be on touchscreen devices. And it was inevitable that the click wheel games store would also go with it. However, recent rumors have claimed that for those who love the iPod classic for its excessive storage capacity, there will be an alternative.
Cult of Mac claims that a 128GB iPod touch is "almost definitely incoming"… as long as there's a 64GB iPhone 5. They note that Apple has always offered the iPod touch with double the storage of the iPhone, and so if the iPhone comes with 64GB of storage – which is also looking likely as the weeks go on – you can be sure the iPod touch will get 128GB.
At the moment, however, it's all speculation. So until Apple's event on Tuesday, take this with a pinch of salt. All we know now is: click wheel games are gone, and the death of the iPod classic and the iPod shuffle seems increasingly likely.