Adobe releases beta code-free web creation tool for designers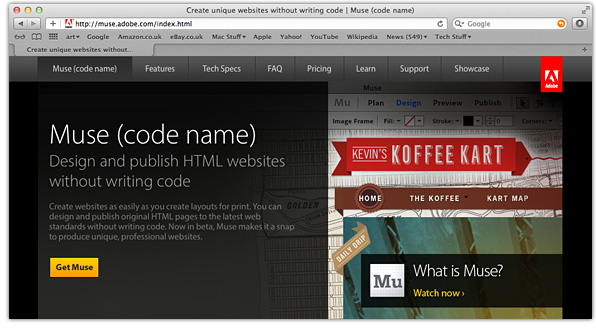 Earlier today Adobe released a beta web creation tool that allows graphic designers to design and publish HTML websites without having to write any code. Based on their cross-platform runtime environment (Adobe Air), the application, which has the temporary code name 'Muse', shares many of the features found in Photoshop, Illustrator & InDesign.
From Adobe's Muse press release:
"Do you spend most of your time using Adobe® Photoshop®, Illustrator® and InDesign® software? Do your designs mostly appear in print? When you do design websites, do you hand-off your designs to a developer who codes the site for you?
If you answered yes to these questions you'll be interested in Muse."
Adobe Muse demo video
With Apple set to stop providing support for its own web creation and publishing tool iWeb on the 30th of June 2012, I can see some users looking to Muse as an alternative. However, having been created specifically for graphic designers, who are familiar with the likes of InDesign & Photoshop, I suspect many will find it too complex.
While the beta version of Muse is free to download, Version 1 will be available in early 2012, at which point you will have to pay to continue using it. Rather than buying the software outright though, you will have to pay either a one year subscription for $15.00 per month/$180.00 per year, or a month to month subscription costing $20.00 per month (UK pricing unknown).
As someone who originally learned to create websites by hand-coding HTML & CSS, I will definitely be giving Muse a try over the next few weeks. I'm particularly interested to know what the coding behind the completed sites is like, how flexible the application is, and how well the sites created with it work across different browsers.