Apple prepares for Wednesday's iPad event, rumour round-up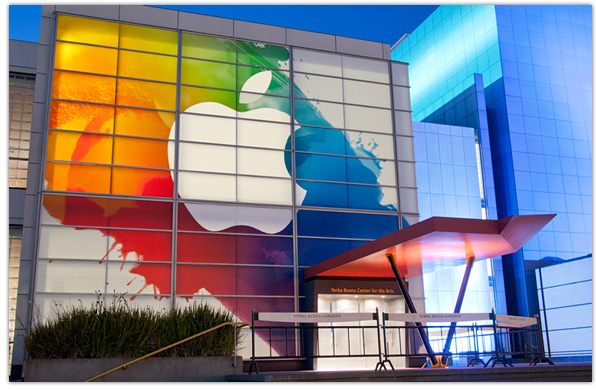 Apple has been busy preparing the Yerba Buena Center for the Arts in San Francisco for this Wednesday's iPad media event. As you can see in this fantastic photo by Ekkapong Techawongthaworns, the front of the theater has been covered with a huge banner.
Apple have hired the center for a number of product launches over the years, including the first and second-generation iPad. At Wednesday's event the company will unveil their third-generation tablet which, based on the latest rumours could:
Sport a 1536 x 2048 resolution Retina Display – 2x the resolution of the iPad 2.
Be called the iPad 3 – rather than the iPad 2S or iPad HD.
Feature improved cameras – hopefully the same used in the iPhone 4S.
Have a faster processor – either a dual-core or quad-core A6.
Include Siri – the speech-based assistant currently exclusive to the iPhone 4S.
Have a slightly thicker form-factor – to accommodate a bigger battery.
Include a physical home button – despite the invite for the event appearing to show an iPad without one.
Cost the same as the iPad 2 – which will have its own price cut.
Wednesday's media event starts at 10.00am PST, which is 6.00pm UK time.