Photoshop Touch Apps for the iPad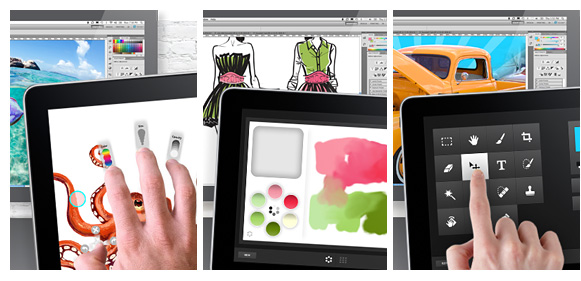 Earlier today Adobe released three Photoshop Touch Applications for the iPad. Developed using their Photoshop Touch SDK, they demonstrate how touchscreen devices like the iPad can be used in conjunction with the latest desktop version of Photoshop.
Adobe Color Lava turns the iPad into a digital artist's palette. Colours can be mixed and blended together to create swatches, which can be then either transferred directly into Photoshop, or via email.
Adobe Eazel is a painting app that features watercolour style effects. If you repaint over a section that you have just painted with a different colour, the two will smudge and blend together. But if you allow a section to dry before painting back over it, you get a layered effect. Paintings can be sent directly to Photoshop and viewed/edited at a resolution of 4096×3092. You can also send paintings to the iPad's photo library, but they are restricted to 1024×768.
Adobe Nav transforms the iPad into an input device for Photoshop. The interface is customisable so you can have your most often used tools easily accessible, and the app can also be used to browse, zoom and arrange up to 200 open documents.
You need to be running the latest version of Photoshop CS5 (12.0.4 or later) to make use of the three app's desktop connectivity.
Pricing: Eazel is the most expensive app at £2.99 ($4.99), Lava is next at £1.79 ($2.99) and Nav is the cheapest at £1.19 ($1.99).
For more info visit Photoshop.com.