Apple orders 400,000 next-gen MacBook Airs for upcoming refresh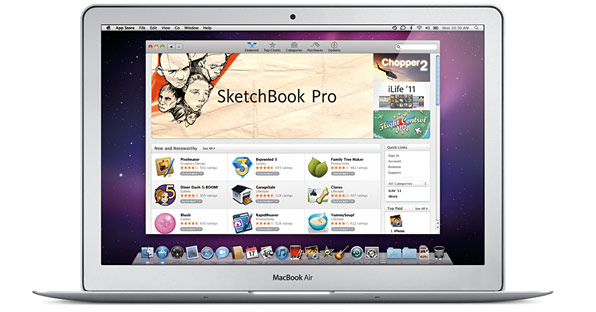 Speculation regarding the next-generation MacBook Air understandably went quiet in the run up to WWDC. But now the event has come to an end and things are beginning to calm down again, fresh rumours are starting to surface.
The latest is from analyst Ming-Chi Kuo of Concord Securities, who issued a note to investors today in which he claims Apple's manufacturing partners have received an order for around 400,000 next-generation MacBook Airs.
Speaking to AppleInsider, Kuo revealed the updated MacBook Air will enter mass production at sometime over June, with production of the current model now winding down with a final run of 80,000 units. Kuo's research, which AppleInsider notes has long been an accurate inside into Apple's future plans, revealed that roughly 55% (209,000) of units produced will be the 11-inch model – with the smaller device proving to be slightly more popular than its larger sibling.
The next-generation MacBook Air is believed to sport Intel's 32-nanometre Sandy Bridge architecture, in addition to the company's latest ultra low voltage Core i5 and i7 processors – upgrading the current Core 2 Duo chips. The device is said to boast between 3MB and 4MB of Smart Cache, theoretically supporting up to 8GB of RAM, as well as Intel's high-speed Thunderbolt port – which recently entered Apple's notebook family in the latest MacBook Pro line.
Since its refresh last October, which saw the introduction of the ultraportable 11-inch model, the MacBook Air has been an overwhelming success for the Cupertino company, as consumers continue to embrace mobile computing. Speaking at WWDC this week, Apple's senior vice president, Phil Schiller, said that the MacBook Air is one reason why Apple has been so successful while the rest of the PC market begins to struggle at the feet of devices such as the iPad. When describing the notebook, Schiller said:
"It's beautiful, it's thin, it's light, it's fast. The whole PC industry wants to copy it."
Apple's notebooks count for almost three-quarters of all Macs shipped today, and a report in March revealed the MacBook Air is roughly half as popular as Apple's most successful notebook line – the MacBook Pro. During its first quarter of availability, Apple shipped more than a million units of the MacBook Air, which is rumoured to soon takeover as Apple's flagship notebook.