Apple launches 2012 'Back to School' promo for new Mac and iPad purchases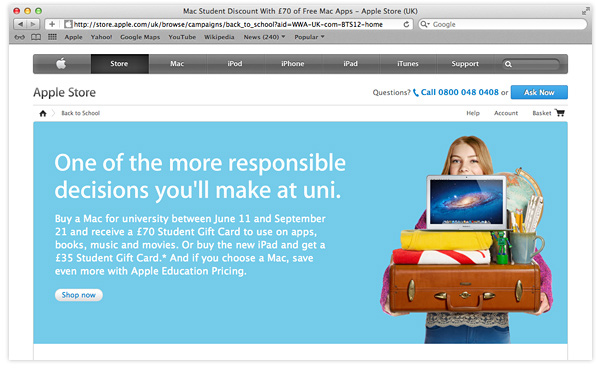 Apple's 2012 'Back to School' promotion started yesterday, giving students and academic staff the opportunity to claim either a free £70 ($100) gift card with the purchase a new Mac, or a £35 ($50) gift card with the purchase of a new iPad.
The annual promotion is open to students currently attending college or university, those who have been accepted to attend college or university, parents buying on behalf of students, and the staff of educational establishments.
Qualifying customers can choose from either a MacBook Pro, MacBook Air, iMac or the third-generation iPad. This year's promo is the first to include Apple's tablet, but unlike the Macs there is no educational discount on the price.
To receive a gift card, the purchase must be made via the Apple Online Store for Education, an Apple Retail Store, or an Apple authorized Campus Store. The cards can be spent on apps, books, music or movies – unfortunately they can't be spent on hardware.
Apple has launched the 2012 promotion in a number of countries, including here in the UK, the US, Canada, France, and Germany.
The offer runs until the 21st of September – after that date customers can still receive educational discounts on qualifying products, but won't get a gift card.
Will you be taking advantage of Apple's 2012 'Back to School' promo?