Apple extends MobileMe free 20GB of iCloud storage offer until the 30th of September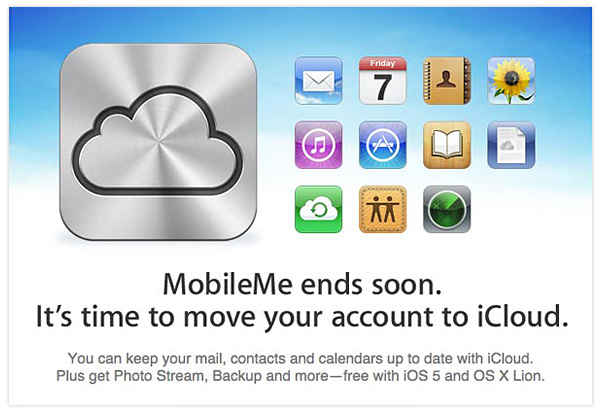 Back in August 2011, Apple revealed that customers switching to iCloud from MobileMe before its 30th of June shutdown date, would receive a free storage upgrade of 20GB. Although MobileMe services are still set to end on the same date, subscribers now have until the 30th of September to take advantage of the complimentary 20GB of iCloud storage.
Apple has updated their MobileMe transition page to reflect the new date:
"MobileMe members with 20GB of purchased storage receive a complimentary iCloud storage upgrade of 20GB, and accounts with additional purchased storage (40GB to 60GB) receive a complimentary upgrade of 50GB after moving to iCloud. These free upgrades are good through September 30th, 2012. After that date, you can continue the upgrade at the regular price or let it expire and use the free 5GB plan."
Purchased music, movies, apps, books, and TV shows do not count against the free 5GB of storage included with iCloud, so the default plan will probably be more than adequate for most users. Anybody that does need more space can choose from one of the following upgrade options:
10GB (15GB total) = £14.00 ($20.00) per year
20GB (25GB total) = £28.00 ($40.00) per year
50GB (55GB total) = £70.00 ($100.00) per year
To use iCloud on your Mac you need to be running OS X 10.7 Lion, which is only available as an upgrade if you have OS X Snow Leopard installed. MobileMe customers running older versions of OS X can take advantage of Apple's 'Get your Mac ready for iCloud' program which offers free DVD copies of Snow Leopard.
Have you made the switch from MobileMe to iCloud yet?
[Via AppleInsider]