Apple encourages MobileMe users to switch to iCloud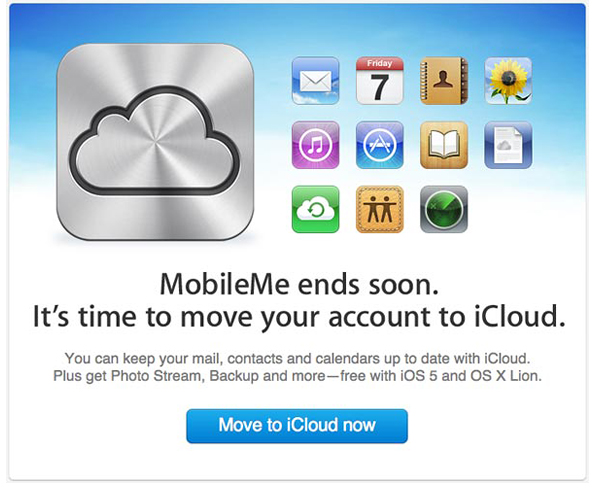 MobileMe will soon be dead. The service I've grown to both love and hate throughout the years will be taken over by iCloud on June 30. It's still over four months away, but Apple is already encouraging users to make the switch early.
Those who are yet to switch their MobileMe accounts over to iCloud have begun receiving emails from the Cupertino company that clearly state "It's time to move your account to iCloud." If you're one of those customers, there are some things you need to remember before you proceed with the move.
First, while iCloud offers some fantastic new features, like cloud-based backups and Photo Stream, there are some MobileMe features it doesn't support. Those include iDisk storage, iWeb publishing, and photo galleries. You'll need to back these up and move the data elsewhere, then, before you lose it.
But those features set to meet their demise have been replaced by others, which the majority of users are going to find a lot more useful. iCloud offers things like Documents in the Cloud, which allows you to sync documents between your Mac and iOS devices; Photo Stream, allowing you to sync recent photos between devices; automatic downloads for apps, books, music, and more; plus plenty more.
Best of all, iCloud is completely free. Unlike MobileMe, which required a paid annual subscription of £59 ($99), iCloud costs nothing. And it's a whole lot more reliable.
So what are you waiting for? Make the switch now and backup your personal data before Apple does it for you on June 30 and you lose the content you have stored within those features that are no longer supported.
Have you switched from MobileMe to iCloud yet?
[Via The Mac Observer]