Apple donates $2.5 million to Hurricane Sandy relief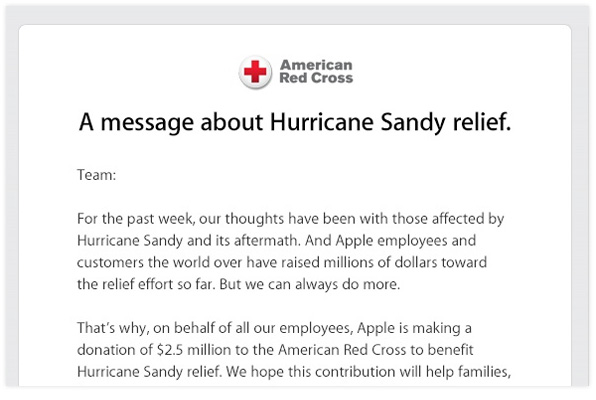 Apple has donated $2.5 million (£1.57 million) to the American Red Cross to help Hurricane Sandy relief efforts for those on the East Coast of the United States. Tim Cook announced the company's donation in an email to Apple employees this week.
The full email, which was obtained by 9to5Mac, reads:
Team:
For the past week, our thoughts have been with those affected by Hurricane Sandy and its aftermath. And Apple employees and customers the world over have raised millions of dollars toward the relief effort so far. But we can always do more.
That's why, on behalf of all our employees, Apple is making a donation of $2.5 million to the American Red Cross to benefit Hurricane Sandy relief. We hope this contribution will help families, businesses, and communities recover and rebuild.
Tim Cook
November 8, 2012
In addition to its $2.5 million donation, Apple is helping to raise money for the American Red Cross by accepting donations for Hurricane Sandy relief via iTunes. Users in the U.S. can use iTunes on their Mac or PC, or iTunes and the App Store on their iOS devices to contribute $5, $10, $25, $50, $100, and $200 donations. Apple passes on 100% of every donation made — it doesn't take a penny away.
Although Apple's main headquarters are based on the West Coast of the U.S. in Cupertino, California, the company has dozens of retail stores on the East Coast. When Hurricane Sandy hit earlier this month, Apple protected and closed up to 50 stores that were within its landfall zone.