Apple adds Power Nap to 2011 MacBook Air with new firmware update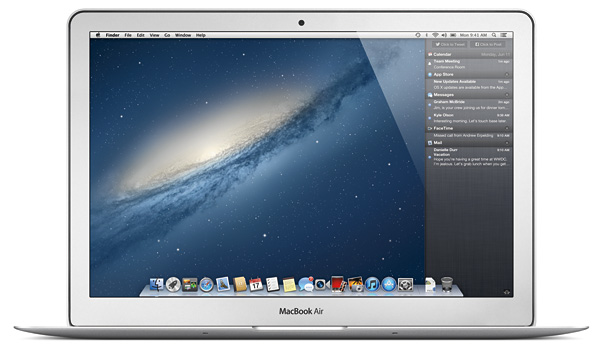 Apple has released a new firmware update for the 2011 MacBook Air that activates the new Power Nap feature built into OS X Mountain Lion, allowing the ultraportable to perform certain tasks while it's asleep.
Apple announced Power Nap during its Mountain Lion preview at WWDC back in June, and the feature was supposed to arrive within Mountain Lion yesterday. However, a number of Macs didn't get it. The 2011 MacBook Air is one of them, but Apple's latest firmware update fixes that.
The Cupertino company has also released a Power Nap support document that details its capabilities. It states that the feature allows your Mac to receive new emails; sync contacts, calendars, notes, documents, and Photo Stream; and more — all while it's sound asleep.
If your Mac is plugged into a power source, Power Nap will also download software updates from the Mac App Store, backup to Time Machine, perform Spotlight indexing, and update the Help Center. If your battery drops below 30%, Power Nap will automatically stop until your machine is connected to a power source. This prevents it from dying completely.
Apple promises that while Power Nap is doing its job, "the system sounds are silent and no lights or fans come on." This means you won't be woken up in the middle of the night be the sound of a new email or a bright screen if your Mac lives in your bedroom.
You can activate Power Nap on your Mac by visiting the "Energy Saver" menu in System Preferences, and it's compatible with the following apps:
Mail, Contacts, Calendar, Reminders, Notes, Photo Stream, Find My Mac, Time Machine, Spotlight, the Mac App Store, Software Updates, Help Center and Documents in the iCloud are already Power Nap-aware. You don't need to do anything to configure them to be used with Power Nap.
MacRumors reports that Power Nap is supported on the 2011 and 2012 MacBook Air, and the new Retina MacBook Pro. However, the latter doesn't yet have the firmware update required for activation; Apple promises this is "coming soon."
The reason why Power Nap doesn't support more Macs is that it relies on solid-state storage, which does not come as standard in other machines.