Apple adds movies to iTunes in the Cloud for the UK and other countries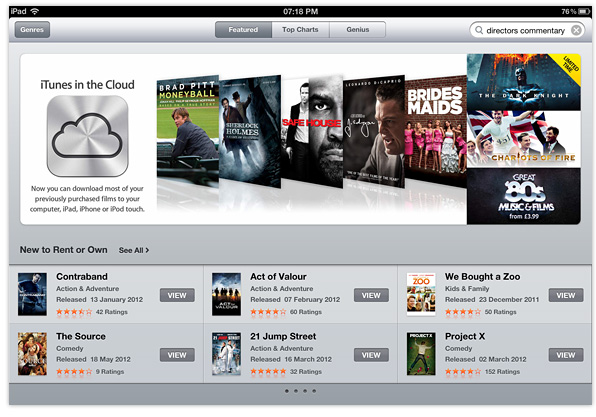 The ability to re-download previously purchased movies via iTunes in the Cloud is no longer exclusive to users in the United States. Apple has today rolled out the feature for a number of other countries, including here in the UK, Ireland, Canada, Australia, and New Zealand.
Presumably due to licensing issues, not all previously purchased movies are available to download. But those that are eligible can be downloaded onto your Mac, PC, iPad, iPhone or iPod touch. To find out which of your movies qualify you need go to the Purchased section of iTunes on your computer or iOS device.
According to MacRumours, iTunes in the Cloud for movies has also been rolled out for the following countries:
Asia-Pacific: Hong Kong, Singapore, Taiwan, Brunei, Cambodia, Laos, Macau, Malaysia, Philippines, Thailand, Sri Lanka and Vietnam.
Europe: Czech Republic, Hungary, and Slovakia.
Latin America: Argentina, Bolivia, Brazil, Chile, Costa Rica, Dominican Republic, Ecuador, El Salvador, Guatemala, Honduras, Mexico, Nicaragua, Panama, Paraguay, Peru, and Venezuela.
In related news, Apple has launched its iTunes Match service in two new countries – Hungary and Poland.