An easy way to check your Mac for the Flashback trojan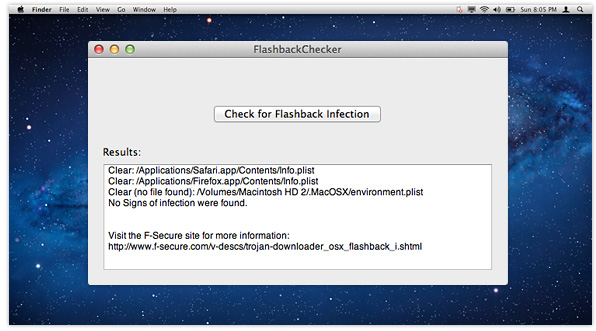 There's a good chance you've heard about the Flashback trojan – malware that's reported to have infected over 600,000 Macs. Anti-virus firm F-Secure provided Terminal commands to check systems for infection, but understandably, some users may have been wary of running them. Thankfully, there's now a much easier way to check for the trojan.
FlashbackChecker is a free app for Intel and PowerPC Macs running OS X 10.5 or above, that involves nothing more complicated than clicking on a large button.
If after running it on your system, you get a message saying "No Signs of infection were found", you can breathe a sigh of relief. In the unlikely event that your Mac is infected, the message will say "Potential Issue found", and you will then need to carefully follow F-Secure's removal instructions.
Apple has now patched the Java vulnerability that the Flashback trojan exploited, but to protect your Mac against future malware, viruses, & trojans, make sure you check out this fantastic post by OS X Daily.
Update: Apple have announced in a Support Document, that they are developing software that will detect and remove the Flashback malware.
Update 2: Kaspersky have created a free utility called the Kaspersky Flashfake Removal Tool, which scans for, and removes the trojan.
[Via Ars Technica]