Apple to kill Mac Defender malware soon, but threat increases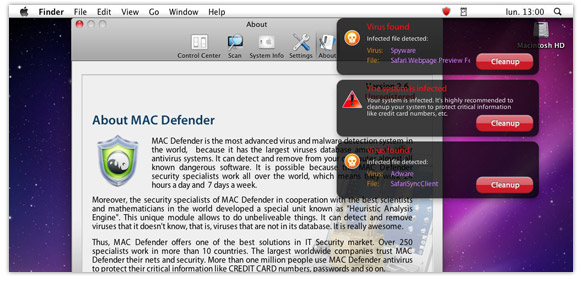 A malware application created to obtain credit card details from unsuspecting Mac users has been the centre of attention recently. And although Apple spoke out about the threat and its intentions to eliminate it with an upcoming software update yesterday, Mac Defender just got a new name and became more intelligent – making it an even bigger threat.
In an email to Cult of Mac, Intego – the company behind popular anti-virus software for the Mac – revealed that there is now a new variant of the Mac Defender malware called Mac Guard. The difference? Mac Guard doesn't require you to enter your administrator's password to do its business.
Mac Guard finds its way onto your system in the same way that Mac Defender does, so if you're careful about the packages you download and install, you shouldn't have any problems. The malware downloads itself on to your system when you visit a malicious website, then, if you have enabled the option within Safari to "open 'safe' files," the package will automatically open up the system installer.
Those who are unaware of the threat, or may not be as knowledgable behind a keyboard as you and I, continue with the installation. This time, however, it won't ask for an administrator's password before it is completed, and the end result is a new application called avRunner. This application helpfully launches all by itself and downloads Mac Guard, which, once installed, will steal the credit card details of unsuspecting users and turn them into its next victim.
Despite a new edition that's easier to install, this malware is still easily avoided. You can follow our tips to ensure this doesn't happen to you, and you can rest assured Apple will eliminate this threat in a future software update. They issued a new knowledge base article yesterday and announced a Mac OS X update would arrive over the coming days to protect users from the Mac Defender malware.
However, with malware like this advancing all the time, how long can Apple keep up the software updates to maintain Mac user's safety?